Barkley L. Hendricks and Lorna Simpson: Collected Works
at the
rennie museum
is the first major presentation of either artist in Canada and marks the first time the two acclaimed figures have been exhibited together. Drawn from the rennie collection, the exhibition includes works that span a combined 50 years of both artists' practices.
Covering a gamut of mediums, the exhibition demonstrates how both Hendricks and Simpson utilize the range of photography, painting, drawing, collage, and installation, and welcomes visitors to challenge their assumptions about subjectivity, gender, identity, and history. The exhibition provides insights and contextualizes iconic pieces for which both artists are renowned and also mark pivotal moments in their practice.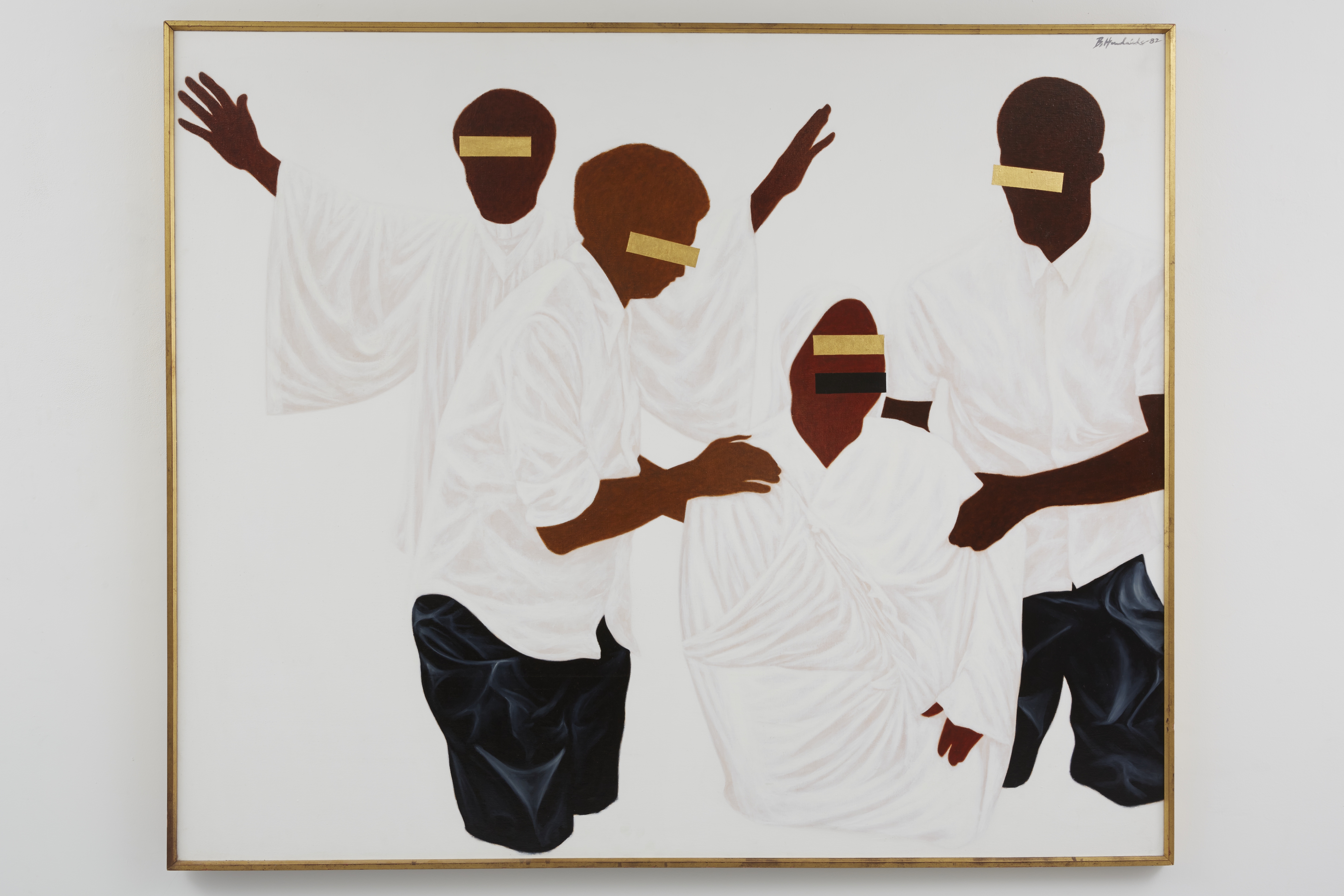 Barkley L. Hendricks
Barkley L. Hendricks' was, according to
The Atlantic
, "a master of black postmodern portraiture who documented the African American figure as a cultural, and commodified, phenomenon". With limited politicism and through his portrayal of his subjects, Hendricks displayed dignity, complexity, and individualistic style. The spectrum of Hendricks's works on display highlights his skills as a painter and traces the development of his techniques throughout his career, reaching back to a rarely seen flag painting
Untitled
(1967 - 1968), made during his formative years as a student. His own life-size and iconic self-portrait,
Brilliantly Endowed
(1977), provides an example of how he captured the confident, self-assured persona and essence of his subjects. The exhibition will include the ways in which his portraiture extended to the world as he viewed it. Visitors will see a series of watercolour and graphite works featuring bananas, and a grouping of 14 landscape paintings depicting the beauty of Jamaica.

Lorna Simpson
Touted by Vogue as "
America's Most Defiant Conceptual Artist
", Lorna Simpson is known not only for her painting, but photography, collage, film, sculpture, and installation too. With her art originally described as 'risk-taking', her pieces, according to Vogue, are proof of art's ability to deal with serious questions regarding race, gender, identity, sex, and politics. Visitors to the exhibition will see Simpson's first paintings ever released, five-large scale pieces, which originally debuted at the 2015 Venice Biennale, and a renowned collection of 307 black and white photographs
1957-2009
(2009). Additionally, the current exhibition will also unveil a major new work by Simpson,
The matter of the bracelet
(2020). Commissioned for the show, the gleaming installation, the largest of Simpson's recent gold-plated bronze sculptures, comprises 5,000 individual shimmering elements that extend more than 9 meters (or 30 ft) up the museum wall.
Tickets & Tours
Barkley L. Hendricks and Lorna Simpson: Collected Works
opens February 8 and runs through August 28, 2020. It is available on view at rennie museum through free public guided tours and can be booked at
www.renniemuseum.org
.
Art credit: Barkley L. Hendricks, Full Moon, 1982; Lorna Simpson, Corridor, 2003 

rennie museum opened in October 2009 in historic Wing Sang, the oldest structure in Vancouver's Chinatown, to feature dynamic exhibitions comprising only of art drawn from Rennie Collection. Showcasing works by international artists, the exhibits, accompanied by supporting catalogues, are open free to the public through engaging guided tours. The museum's commitment to providing access to arts and culture is also expressed through its education program, which offers free age-appropriate tours and customized workshops to children of all ages.rennie collection is a leading collection of contemporary art that focuses on issues related to identity, social commentary and injustice, appropriation, the nature of painting, photography, sculpture, and film. International in exposure, the collection supports both emerging and established artists, with over 50 artists collected in-depth and more than 400 artists in total. A robust lending program ensures the Vancouver-based collection is shared across the globe through numerous loans to, and collaborations with, institutions and various arts organizations.