Kenneth Chan  | Jan 16 2020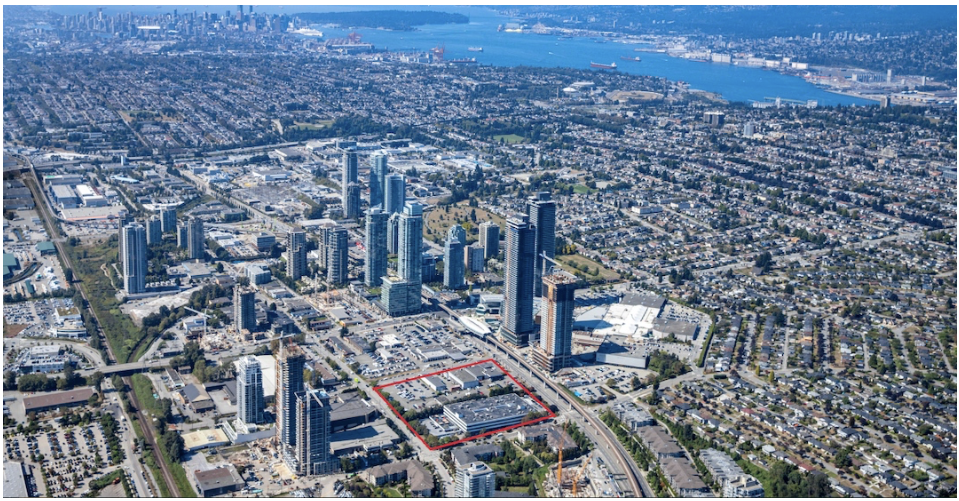 A significant city block immediately southeast of SkyTrain's Brentwood Town Centre Station and south of The Amazing Brentwood has been acquired by Grosvenor Americas for its high-density, transit-oriented redevelopment potential.

 
The UK-based international developer, owned by the Duke of Westminster, announced this week it recently bought the 7.9-acre property framed by Lougheed Highway to the north, Beta Avenue to the east, Dawson Street to the south, and Alpha Avenue to the west.

This acquisition was performed through a land assembly of lots, including a significant parcel that is currently occupied by a 1975-built, eight-storey office building with 187,000 sq. ft. of total floor area. Other parcels are occupied by low-storey commercial and light industrial buildings, and ground-level parking.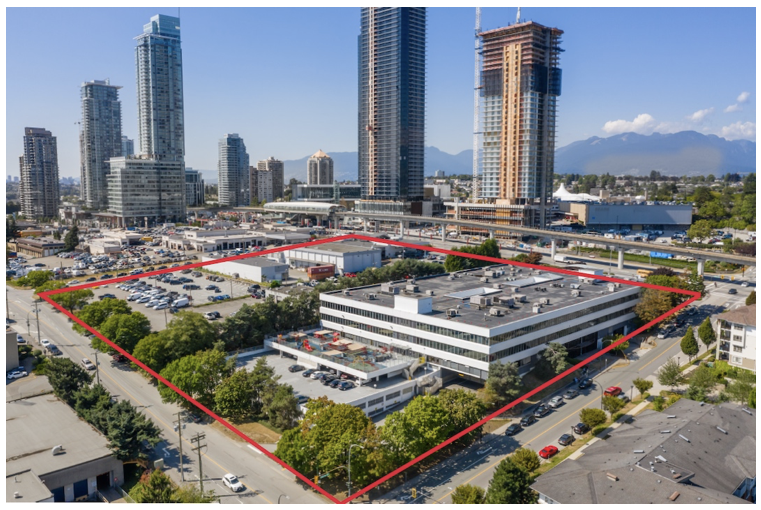 There are no publicly available detailed redevelopment plans at this very early stage; no formal application has been submitted to the City of Burnaby. However, Grosvenor Americas has stated the redevelopment will include market condominiums, market residential rental, non-market residential rental, and retail and office spaces.

"We are excited to be developing in Burnaby again, especially in one of BC's most well-connected transit hubs," said Michael Ward, senior vice president of development and general manager of Grosvenor Americas' Vancouver division, in a statement.

"Increasing density on transit and in high amenity neighbourhoods is a priority as more people look to live in Burnaby because of its central location. It is imperative to plan ahead and account for more than just the population at hand."

This aligns with the municipal government's Brentwood Town Centre Official Community Plan, which calls for high-density residential and mixed uses for this particular city block. It will add to the growing cluster of density in the area, which has seen over 10,000 new homes, one million sq. ft. of new retail, and over 500,000 sq. ft. of new office space since the completion of the Millennium Line in 2002.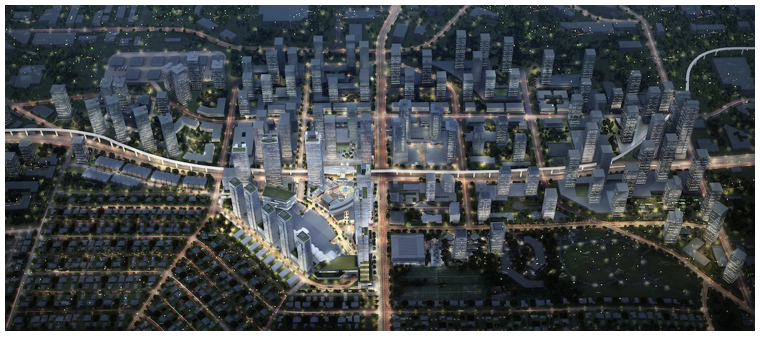 Just southwest of the Grosvenor Americas city block, Aoyuan International has submitted an application to replace a 9.3-acre industrial city block with the Grove — a high-density, mixed-use redevelopment entailing five towers reaching up to 51 storeys, plus four low-rise buildings up to six storeys.
 
The market condominium component of the project alone will create about 1,500 homes, alongside 280,000 sq. ft. of office, retail, and restaurant space.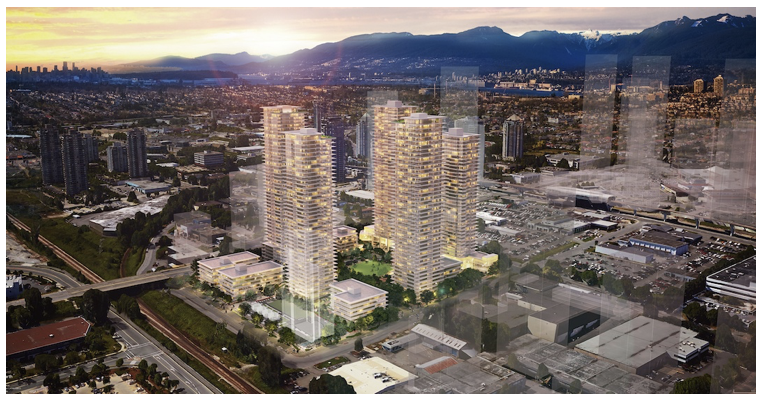 Both the Grosvenor Americas and Aoyuan International projects are also required to provide the equivalent of 20% of the proposed strata units for affordable housing, as stipulated by the municipal government's recently approved city policies on rental housing.

Grosvenor Americas is also currently in the process of constructing the 36-storey Polaris condominium tower in Burnaby's Metrotown downtown and the 39-storey The Pacific condominium tower in downtown Vancouver.

The developer did not disclose its purchase price for the Brentwood city block, but the latest assessed value for all parcels combined pegs the property at $273 million.