Established in 1960, Dialog is a multi-disciplinary Canadian architecture, engineering, planning and design firm with studios located in Vancouver, Calgary, Edmonton, Toronto, and most recently, San Francisco.

With hundreds of awards under their belt, it's no secret that Dialog Design is a leader in its industry; with past interior design projects for Sony Pictures Imageworks, Bjarke Ingels Group, Earles Headquarters, JJ Bean and the historic art-deco Marine Building - just to name a few. One of Dialog Design's latest projects was the transformation of a 10,000 SQFT. warehouse into a collaborative space for an up-and-coming tech firm. With the goal of attracting top talent without breaking the bank, Railtown's STAT Search Analytics was born. Both STAT and Dialog Design agreed that the number one design differentiator for this space was the raw, industrial double-height space that provided a completely clean slate to work with - a rarity in Vancouver. With that, Dialog Design created a 2,000 SQFT. mezzanine on the second floor, home to a communal social space and break room - fully decked out with free-flowing beer and wine taps, of course. With such a comfortable, inspirational space, they've been able to attract the top talents of those who want to work for this forward-thinking firm.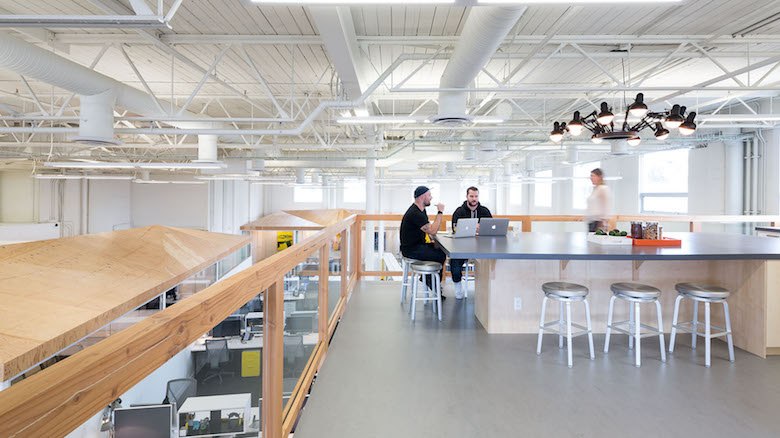 "Working with Dialog has allowed us to create a space that reflects our vision and work culture, and to attract talented people to join us," says Rob Bucci, CEO of STAT Search Analytics. "Since the move, we've seen major improvements in our ability to attract top talent. We've also seen our people really step up their already high standards, with every team showing a new level of sophistication and pride in their work. I believe this is a direct result of having an equally sophisticated workspace that inspires them."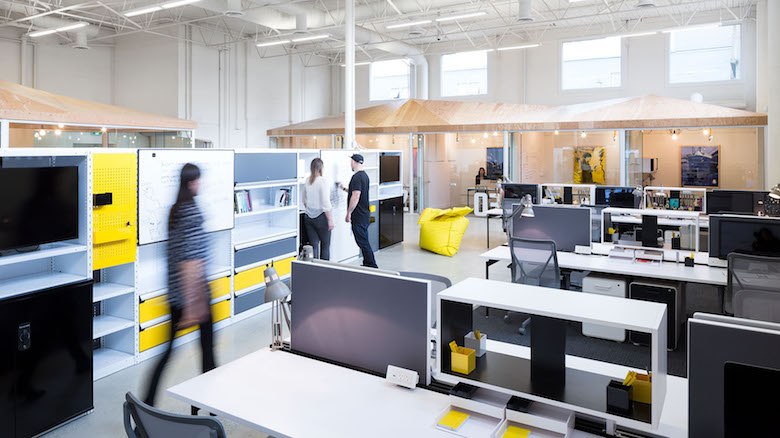 To keep costs down, office accents were constructed out of clear finished plywood to match the millwork. And in an effort to tie in the design to the character of the community, STAT and Dialog commissioned artwork for their breakout rooms by a local artist, Lucien Durey, who creates works based on historical images from the surrounding East-side neighbourhood.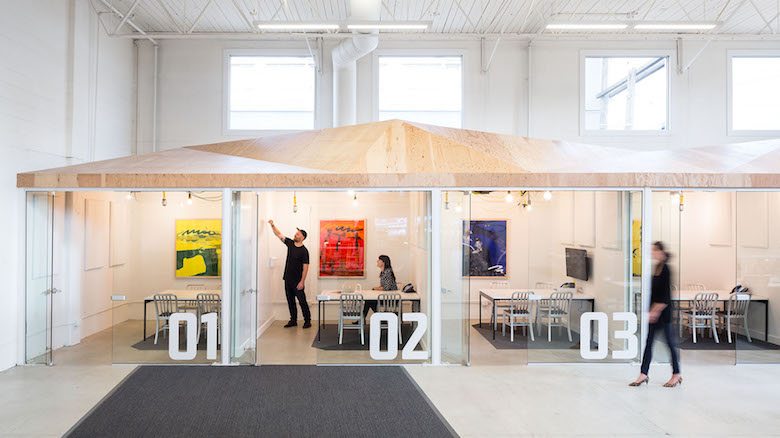 We sat down with interior designer, Janay Koldingnes from Dialog Design, to discuss the latest trends in commercial design.

Tell us about your design process for the office of STAT Search Analytics.
When we started thinking about the space we had two main concepts. Firstly, we wanted to keep design costs low. One of the biggest challenges with any startup or new company is the budget. Many of these companies have very little to spend on their space which means as a design industry we have got to dig deeper and get more creative with how we spend our client's hard earned money. To keep our costs down we chose very basic raw grade plywood for all of our millwork throughout. We sanded this product down and applied a clear coat. This allowed us to match our millwork to our very creative forms used throughout the project. The STAT team also did an amazing job of sourcing and adding their own personal touches to the space.

The second was to create a space that their employees would truly love. Rob from STAT once said, "through this office design we are not just building a company we are building a way of life". People are excited to be part of a company who is successful but cares enough about the environment and the space. Since the new move, STAT has had no problem recruiting top talents.

How would you describe the interior design style of STAT?
As with all of our projects, we wanted to design a space for STAT with purposeful spaces that incorporates beautiful design and inspiration from the community around them. People can find quiet spaces to work or flock together for informal meetings.

Are there any specific materials or textiles you love in the space?
Our main source of inspiration and concept for the space was the very visual web matrix graphics that are used through STAT's website and marketing materials. Polygon-based graphics that represent networks of information connected by nodes are a big part of STAT's identity, and these shapes were used throughout the new office. Within this webbed matrix you can find hidden images called "beasties" which represent STAT's core values. These web like shapes were used as volumes for all the meeting room environments throughout the space. Each form was constructed out of clear finished plywood which became a central element in the material palette.

What do you love the most about this space?
The cool factor - and there are many - is the second floor mezzanine. This communal social space doubles as an event space for tech meetups. It's also an amazing vantage point throughout the rest of the space as you peer out over these incredible volumes. The steel grid structure is exposed giving a true respect for the craftsmanship. Because of this space, people can now spread out and collaborate more. It's raised the creative energy within our team and raised the bar on what work we produce. The event space mezzanine has been used in ways we could not have even planned for as designers which is a true measure of success.