House of Bohn is an award-winning interior design agency based out of Vancouver, BC. Lead by Karin Bohn, this team tackles the toughest creative challenges and pushes creative boundaries to create exceptional spaces in hospitality, office, retail, commercial and residential.

This innovative firm has worked on trendy eateries like Anh + Chi, Q Shi Q, and, most recently, vegan hotspot in Chinatown, Virtuous Pie. One of House of Bohn's latest project is one of Canada's most expensive condominium: a Vancouver penthouse listed at a cool $58.8M. A stunning interior design package matched with 360° mountain views from nearly every room makes this penthouse one-of-kind.
We sat down with interior designer Karin Bohn to discuss the latest trends in residential interior design.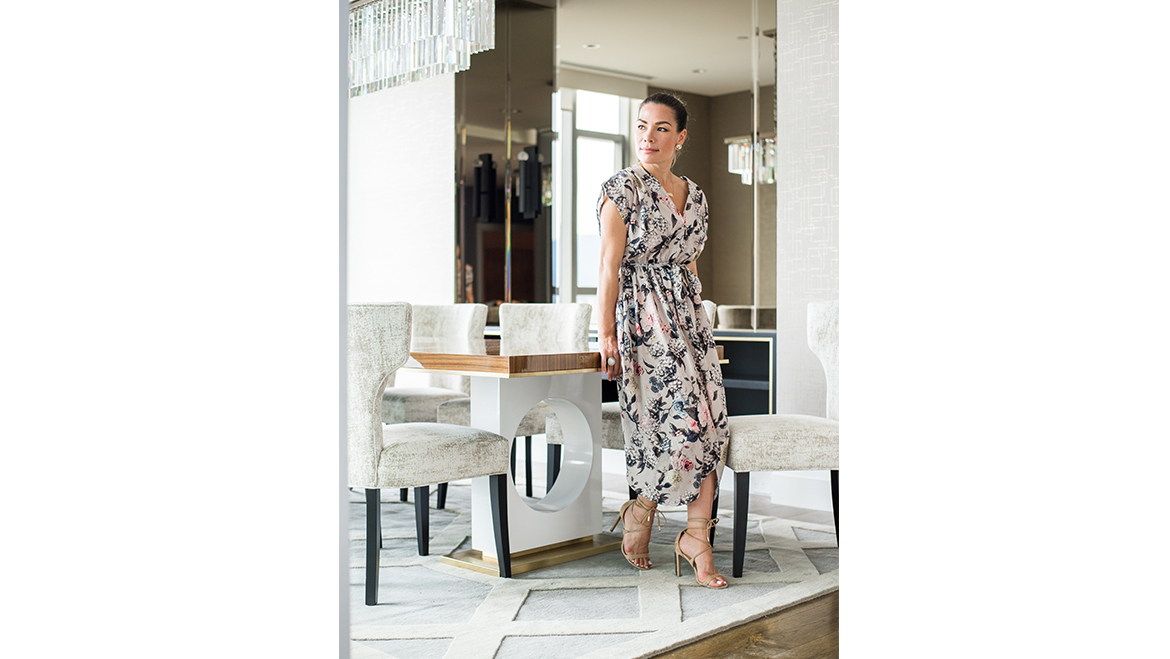 Tell us about your design process for this penthouse.
When we were commissioned to design the interior of this 9,000 square foot penthouse at the top of the Harbor Green Three tower in Coal Harbour, Vancouver, I was keen on pushing the envelope as much as possible with custom pattern, materials, millwork, and lighting, while also ensuring that the home is completely livable and comfortable.

How would you describe the interior design style of this penthouse?
The design style is somewhat eclectic - it's a mix of both modern and retro elements, yet it's edgy and luxurious at the same time. I wanted to ensure that the palette was fairly neutral and warm, so that it served as a beautiful foreground to a breathtaking background of gorgeous west coast landscape. That said, it was still important to me that despite the neutral palette, the design details are still interesting and unique on their own. I wanted the penthouse to feel special and upon entering, that you could tell it was very custom right away.

Are there any specific materials or textiles you love in the space?
This unit spans two entire floors at the pinnacle of the tower and boasts a completely secluded and private rooftop terrace. There was so much space to work with but if I had to pick some favorite elements it would be the bold design choices with custom tile patterns, inlaid brass and millwork, and dramatic lighting in varying metallic shades. I love the mix of materials and, while very sophisticated, the penthouse still feels playful at the same time. The overall palette in neutral tones creates and exciting foreground for the incredible backdrop of west coast views that can be seen from literally every window in the penthouse.

What do you love the most about this space?
I love the sheer architecture and views that only a space like this can deliver. Aside from the structure of the space, I love the patterns, loud geometric shapes and a throwback to retro Italian design that is on the rise. It's also one of my absolute favorite design styles.

When designing a new retail space, what's one piece of advice you'd give?
Retail is all about understanding the business strategy. For example, if the retailer wants to evoke a high-end luxury brand, then make sure the retail space is clean with lots of room to breathe as a consumer. On the other hand, if the retailer is a more accessible brand with a price point at a much lower offering, then make sure there isn't too much open space because in this scenario it'll read "cheap" rather than "luxurious." The best design advice I could give anyone is: "Seek to understand rather than be understood."

Check out House of Bohn's projects at houseofbohn.com