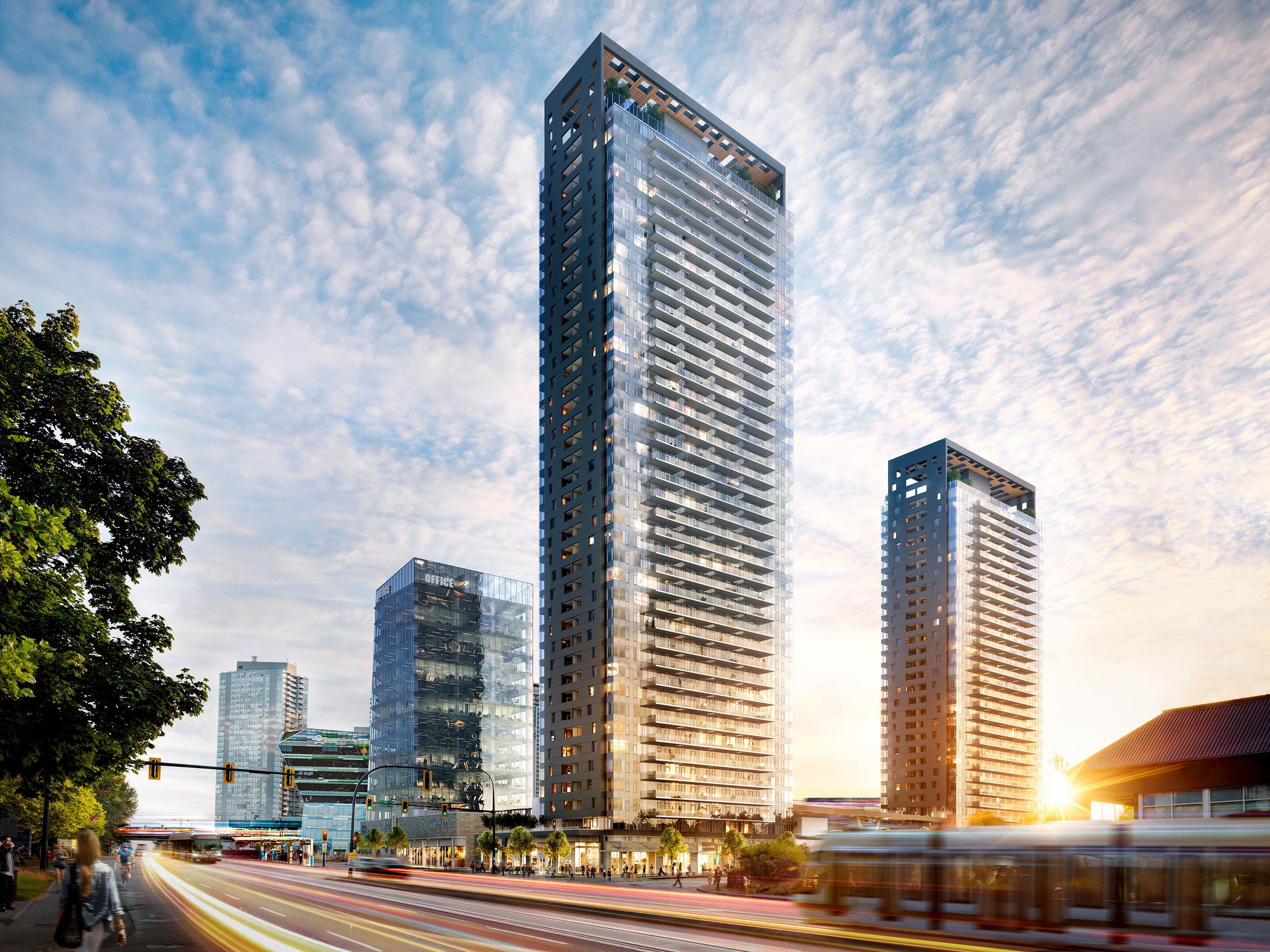 King George Hub
For metropolitan city dwellers, an idealistic life is one where their home is minutes from endless amenities all the while being a stone's throw from an ultra-connected transit system. PCI Developments is proposing just that, a new development, alongside King George Station in the heart of one of Canada's fastest growing cities, Surrey, BC. 
King George Hub
at the Stations, PCI's new development will include 434 homes, with the first residential tower offering 1 and 2 bedroom condominiums, with pricing starting from $299,000.
Why Surrey? A Rapidly Growing City with the Future in Mind
Surrey is cited in the news as being forward thinking, with urban planning anticipating a population to outmatch that of Vancouver. What is known as the Central Core in Surrey has had billions of dollars of investment including a new City Hall and Library. Also included, and crucial to the efficiency of residents is an investment in traffic management centers featuring intersection cameras to help traffic move smoothly while being monitored in real time. Surrey is known to be one of the
fastest growing
cities in Canada and the fastest growing city in Metro Vancouver. Roughly 800 new residents are welcomed to Surrey each month. And, the increase in population is only contributing to the consistent steady addition of local jobs. It is speculated that by 2041, one in five metro Vancouver residents will live in Surrey.
PCI Group
Transit – At Your Fingertips
King George Station will be home to the Light Rapid Transit (LRT) and already hosts a robust bus exchange.
Two new LRT lines
have been approved which will provide simple access from Surrey City Centre to Guilford Town Centre, and another line connecting to Newton Town Centre. With relatively simple planning, residents of King George Hub will have public transit access to destinations within Surrey, across Metro Vancouver and the option of even connecting to BC Ferries and Vancouver's International Airport. There is truly no limit to where a person wants or needs to get while living at King George Hub.
Amenities
Aside from being a proximal location for transport, King George Hub is also central to all kinds of lifestyle amenities. Educational facilities including
Sprott Shaw College
and
Simon Fraser University Surrey Campus
are within blocks of one another as well as nearby elementary, middle and high schools. Restaurant choices and grocery stores options are endless in all directions of King George Hub. Fitness centers like Steve Nash, Fit for Women, and many martial arts studios are scattered everywhere. And, parks like Hawthorne and Holland straddle either side of King George Station. PCI Developments is one of Metro Vancouver's leading Real Estate Developer's specializing in urban, mixed-use developments. Similar to King George Hub, PCI's recently completed (in 2015) Marine Gateway project also bordered light rail transit while offering condos, rental, and commercial space. The vibrancy from the addition of Marine Gateway is a great forecast of the added energy and transformation to be expected from King George Hub. Don't miss out on this rare opportunity.
Register now
to be among the first to receive updates.