When Vancouver chefs are looking to garnish their dishes with beautiful, fragrant, locally sourced microgreens, they turn to urban microgreen farm, Tasty Greens, run by Sam Dobo and Xch'e' Balam out of their Strathcona home since 2016.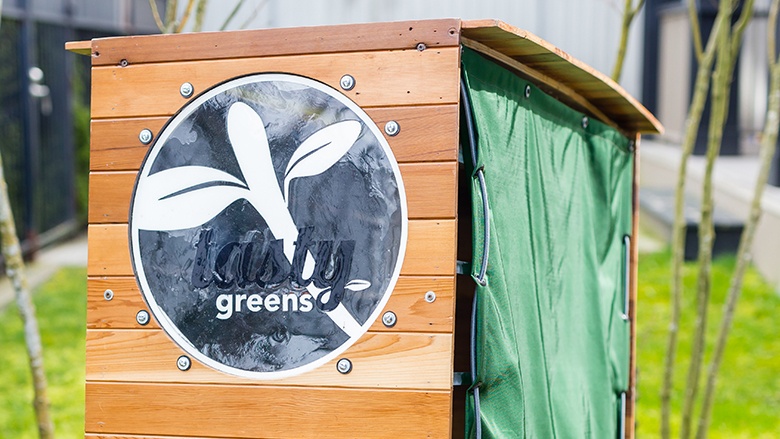 How did you decide to open in Strathcona?
S: We were lucky enough to find a landlord who would allow us to convert the basement of our Strathcona home into an indoor urban farm.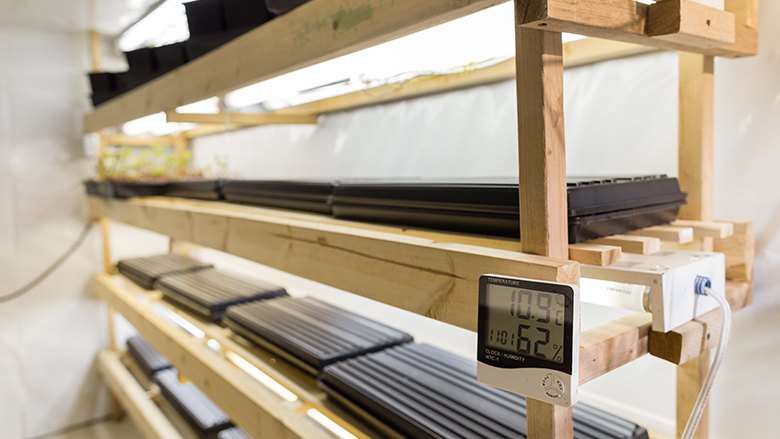 What's your background? What were you doing before opening up Tasty Greens?
S: I'm a holistic nutritionist, but I've worn many hats, from makeup artistry, to retail in costumes and in cannabis, to health food products, to tree planting. Xch'e', is an industrial designer.
X: I was working at MakerLabs, at Hawkes and Heatley. It's a 26,000-sq.-ft. space with a metal shop and a wood shop that provides tools to the public, so crafty people can make things.

Tell me about the concept of Tasty Greens?
S: Our microgreens menu is entirely based on requests from chefs and we sell to restaurants. We also abide by organic standards for microgreens (although we're not certified organic), and we deliver by bike.

What do you grow?
X: Our varieties include red cabbage, broccoli, daikon, arugula, mustard, wheat grass, sunflower, basil, shiso, and turnip. We focus on the most flavourful or the most attractive microgreens, because chefs are usually using them as a garnish.
S: And often carefully placing them with tweezers.

What led you to microgreens?
S: We wanted to start a business together, but we weren't sure what. Xch'e' saw an installation on microgreens at an Emily Carr grad show. We'd already been growing them for ourselves, so we just needed to learn how to upscale.

What's been one of your happiest moments since opening?
S: Landing our first client, Absence Bistro, was monumental. They put up with us through our growing pains to become our most devoted client.
X: For me, it's not one particular moment, but I love waking up every morning and seeing all these little baby microgreens. I'm just amazed that I can do this.

You mention growing pains…
X: Well, I'm the industrial designer. The first bike cart that I designed was top heavy, so Sam crashed when she turned a corner on a hill when she was out on a delivery.
S: I flew off my bike into a parked car and hit my chin!
X: So I modified the cart...

What's it like to run a business out of your home?
X: It's good. We've been able to divide the work—I certainly wouldn't want to do it by myself—and it's way more fun to do with somebody else.
S: We've lived in a two-person tent for six months at a stretch while tree planting, so we're very comfortable sharing close quarters. Plus, we've got an entire character home in East Van, so it's a good life!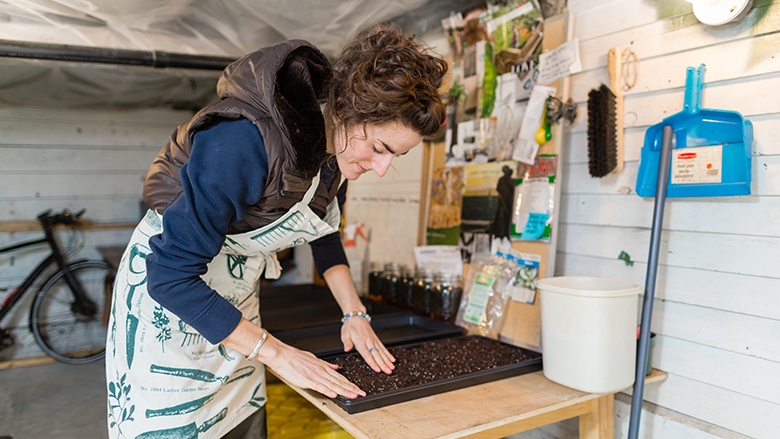 Where do you see yourselves in five years?
S: We're confident that we can grow Tasty Greens into a bigger business. We're intrigued by what the Food Pedalers (another microgreens farm) are doing: their farm is in shipping containers, which is really cool, because it means it can be moved anywhere.
X: I'm not sure if we'll be in brick and mortar or shipping containers, but we'll definitely have staff!

Do you have any other favourite local businesses?
X:  Tight Club. Keighty is awesome and very community minded. As soon as she found out we had a small business, she wanted to help. I also really love Union Market, which has been owned by the same people for 27 years. It feels like home there.
S: Roost Café is so legit with their food: it's always so fresh and unique.

What's your favourite hidden gem in Strathcona?
S: I'm currently going through a cancer protocol, and I've been finding myself at Yinstill. Dr. Harris Fisher is just amazing. (Those interested in Sam's course of treatment can read about it on her GoFundMe page).
X: My happy place is in a workshop, so MakerLabs is awesome, and the rooftop there has an amazing view of the waterfront.