Meet Abigail Gavin, Advisor at rennie.  

Why do you work with rennie?
There are many reasons why I chose to work at rennie. We have the best market resources at our fingertips, which gives us a competitive advantage for our clients. rennie isn't a typical brokerage - with an art museum one side and our offices on the other, this concept cultivates the passion and energy that is distinctly "rennie". Also, rennie is a collaborative organization where everyone works together - it truly is a family, and to be a part of that is a great feeling.

What makes you passionate about real estate?
For me, it really comes down to creating genuine, lasting relationships with people. I wanted a career where this would be at the forefront because it is something that I love doing. Purchasing or selling a home is a milestone in anyone's life, so to be the one to guide people through the process is incredibly rewarding.

What do you most value in your friends?
Their perspective. No matter what is happening in our lives (or the world), they have the ability to stay grounded through it all.

What do you most value in your colleagues?
I'm inspired every day by the talent on our team, but if I were to narrow it down to just one thing, I value honesty the most. Simply because honesty is at the centre of trust, and my mom always said: "When you stick to the truth, you only have to tell one story."

What are the biggest time wasters in your life? What do you do to manage them?
Candy Crush! Likely the most addictive game I've ever played. At one point, I completely removed it from my phone - I was at level 300 or something, and thought "Wow, time to reel it in."

Name one or two of your favorite gems.
One would definitely be my parent's kitchen in Edmonton. The kitchen is the heart of any home, so it's only natural to convene there to whip up a cocktail or a meal fit for a king. However, when I'm in Vancouver, one of my favourite spots is Pho Japolo! Hands down, best bun bo hue in the Lower Mainland.

If you were traveling abroad for one week, and could only bring one item, what would it be and why?
I'd bring a journal to write about my experiences: routes taken, people met and all my little culinary adventures along the way.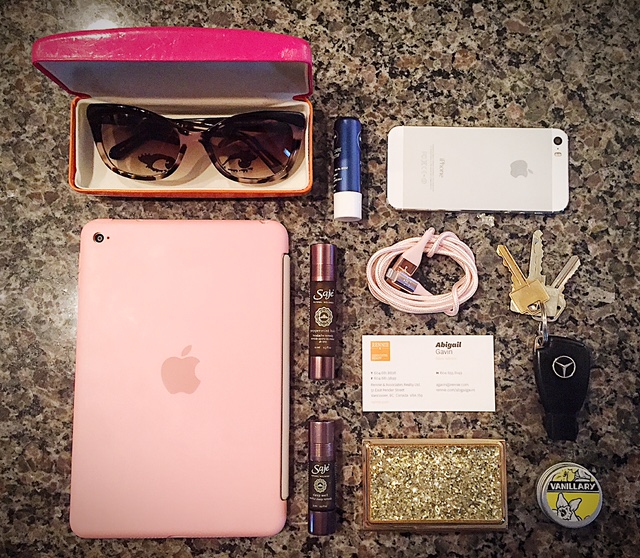 Tell us about your everyday essentials.
My essentials, which I consider 'non-negotiable', are my iPhone, iPad and charger, which any Realtor needs to stay connected. Chapstick is also high on my list along with Peppermint Halo roller from Sage (I love using them before meditation or yoga). Vanillary is my favourite solid perfume from Lush, and my business cards are a daily necessity (in sparkly gold case of course!). My sunglasses and car keys for when I'm driving around this gorgeous city we call home.

Thanks Abigail!