Meet rennie advisor Angel Cheung.

Why do you work with rennie?
Working with rennie gives me the opportunity to tap into both the resale and pre sale markets. Being able to work alongside developers to help promote upcoming communities and sell high rises has definitely been a highlight in my real estate career. I also love that rennie promotes company culture- we have fun summer BBQ's, Christmas parties, you name it - so it's not always about work!

What makes you passionate about real estate?
I have been visiting presentation centres since I was in high school and have watched family and friends get into the presale market. I love that real estate is ever changing, and I love working in a fast paced environment. Every deal we work on is different and it can be challenging! Buying or selling a home can easily be a milestone in anyone's life, and being able to take part in this process is very rewarding!

What do you most value in your friends?
Three words: Genuineness, kindness, and trust.

What do you most value in your colleagues?
Their integrity, professionalism, and support.

What are the biggest time wasters in your life? What do you do to manage them?
Instagram... I start with my friends' posts, and then somehow I'll end up looking at posts of furniture and home decor, food, cute cat videos, architecture, etc! I try and not look at food posts after dinner so I don't get hungry again...

Name one or two of your favorite gems (ie. A place, thing, etc.)
I love neighbourhood gems like The Nook - their burrata platter and any pasta puts a smile on of my face any day. I also love walking the seawall with my dog at Ambleside (brings back memories of my childhood), and Olympic Village (where we used to live).

Why do you love living in Vancouver?
We honestly live in one of the best cities in the world! Every time I come home from vacation and exit the airport, I take a deep breath of the freshest air and remember how lucky we are. From the mountains to the water, to the mild weather... I am truly grateful to be here. Good food also plays a very important role in my life so living in a city with great restaurants and worldly cuisines is a must for me!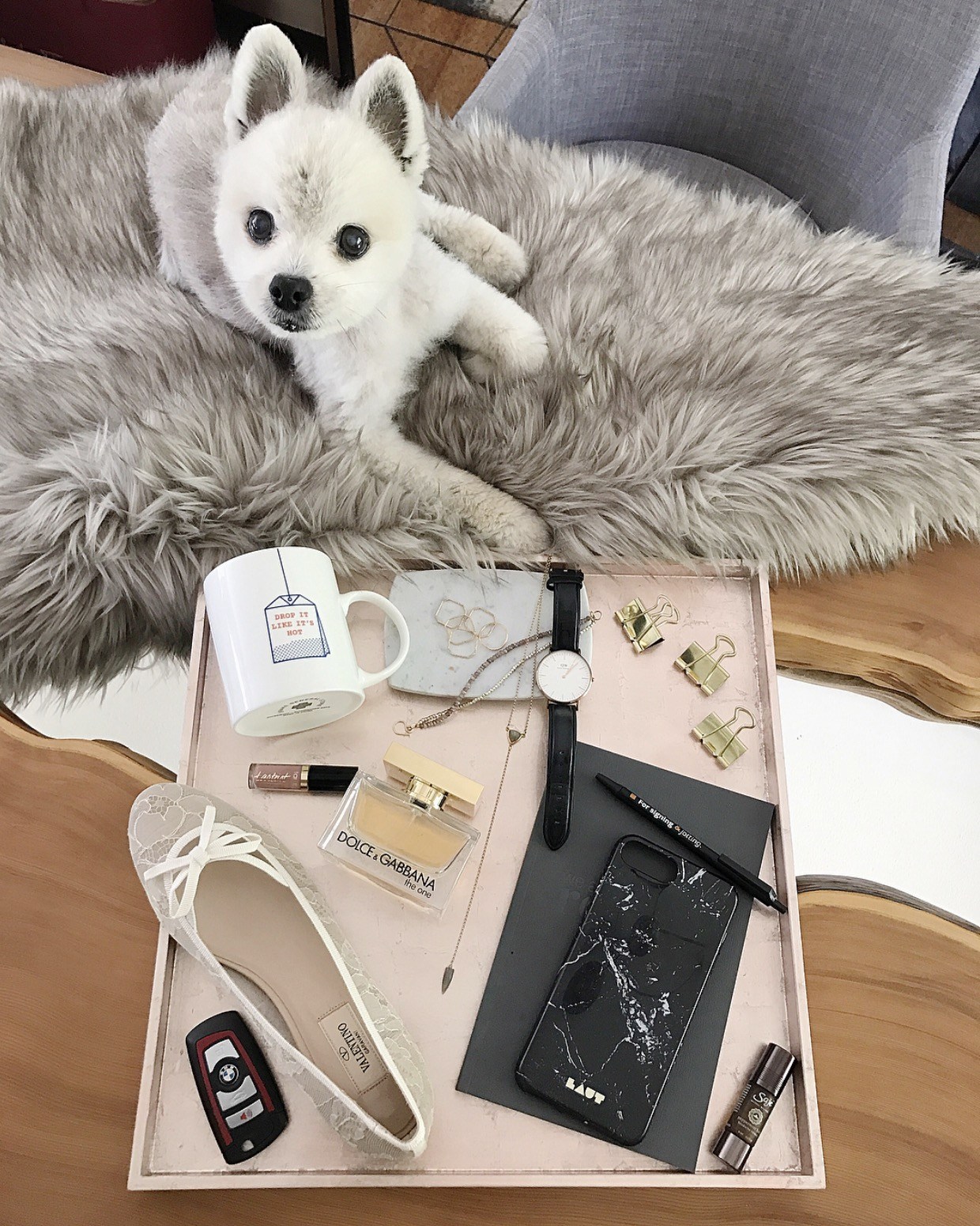 Tell us about your everyday essentials.
I like to start the morning off with a cup of hot tea or fresh juice. I can't live without my phone, self-explanatory. Office supplies and my car keys are crucial for work. A pair of comfy flats are key since I have to run around doing showings and be on my feet for projects. Jewelry, perfume and lip gloss are undeniably a gal's must haves. Peppermint oil keeps me alert and rids me of any headaches when I work long hours. And last but not least...my dog Wobby the Pomeranian. He's the best!

Thanks Angel!