Meet Artyom Seroff, rennie advisor.

Why do you work with rennie?
Initially, I wanted to get to know the real-estate mogul, Bob Rennie and his inspirational work journey and ethics. Once I stepped into the office, I have never looked back. Right from the start I have felt the incredible atmosphere of this place, I've met driven and inspiring people - I've got open doors to endless learning tools and career opportunities, I've understood the value and hard work that goes into making rennie such a highly reputable agency. I wished to be taught by the best and be a part of the Team that strives to leave a remarkable footprint in our community. The wish came to the reality.

What makes you passionate about real estate?
Coming from a very small town where such terms as "real estate agent" are non-existent, I did not foresee my life to be so deeply tied to a real-estate market. All I knew was that I have been passionate about architecture as long as I remember and that Vancouver became a city that I fell in love with the second I stepped out of the airport grounds. I wanted to be a part of this dynamic evolving organism while transforming my passions into a valuable input. I also wanted to share my vision and love for our city with other people. Real-estate ticked all the boxes. Contributing to the field which makes Vancouver a number one in world rankings is a thrilling sensation.

What does community mean to you? For me, it is a supportive and comforting network of like-minded yet uniquely different individuals with whom you share not only space, but aspirations and a life journey. It's a welcoming home without the physical boundaries of one.

What has been the most significant change that you've noticed in Vancouver within the last few years when it comes to real estate?
Lately, the less desirable areas in the past, such as New Westminster, Tricities, North Burnaby have been in the hottest demand on the real estate market of Greater Vancouver. The prices there have increased by 30-50% in less than 2 years.

If you were traveling abroad for one week, and could only bring one item, what would it be and why?
It would be my smartphone. Even if I am on vacation, I can never fully relax until I get personally assured that all my work and clients are well taken care of. I have to be involved 24/7 and my smartphone keeps me connected. Moreover, I love the ability to capture some memorable moments throughout my travels.

If you were given $3M to invest in Vancouver real estate, what would you do with it and why?
I would invest this money into new developments across Greater Vancouver. There are many new fast developing neighbourhoods that have an amazing potential. My locations of choice would have to be Brentwood, Burquitlam/Lougheed and New Westminster. In addition, I would definitely buy condos in Downtown Vancouver which may not grow in value as fast as the new booming areas, but it's a very strong and mature market. I believe that these $3M will be doubled in just 3-4 years.

What are the top two pieces of advice you would give to someone starting their real estate career?
Learn as much as you can by visiting courses in your brokerage, reading books, checking statistics and playing with MLS system, be very up-to-date with all the trends, laws and regulations. Secondly, don't be afraid to ask your more experienced colleagues and managing brokers about the things that you are not sure about.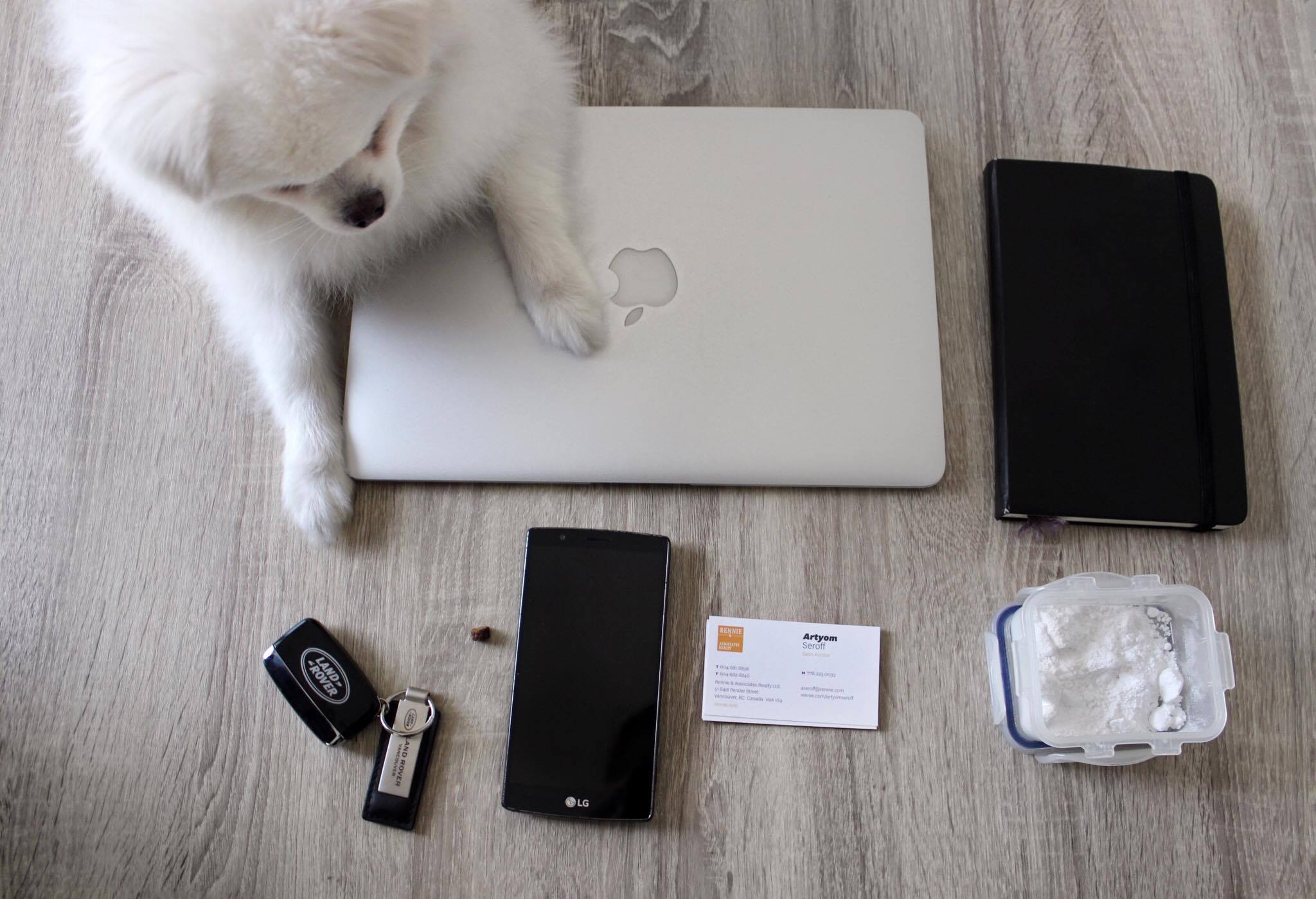 Tell us about your everyday essentials.
My phone is a must because I use it for 80% of my business. I do not like to limit myself and my clients by working only in one specific area of the city. I truly believe in greatness of Greater Vancouver as a whole and strive to find the best fitting home for my clients. Thus, car keys are essential as commuting daily from an open-house in Coquitlam to a showing in Tsawwassen and then back to downtown Vancouver is very common for me. I meet new people every day and business cards come in handy all the time.

In order to stay organized and be on track I have to have my Moleskin notebook with me. I had one gifted to me by my wonderful girlfriend on the first day of work in real estate and now it is a tradition to get a new one every year and look at the old one to see what has been accomplished. If I am not around town, I am in my home office working on my laptop. Though, I have to confess that I cannot resist on taking breaks every 10 minutes to cuddle with my fluffy buddy Tèo. I am all about active lifestyle and sports. Whether that day it's a powerlifting, crossfit or bouldering workout, I always have a bag of chalk with me for a better grip.

Thanks Artyom!