Meet Calvin Jiang, new member of our growing Advisor team.

What inspired you to join rennie?
My friend and colleague Chrys Li planted the seed in my head of moving brokerages to rennie after raving about how much she loves working there. After a meeting with our charming Director of Sales Systems Andy Seto, I was very impressed by rennie's reputation and expertise within the industry, it's vibrant office culture, the supportive Managing Brokers team, and my fellow rennie advisors. I am very excited and motivated to continue my real estate career at such an esteemed company with great colleagues.

What got you into the real estate industry?
I was fortunate enough to have purchased a pre-sale property at age 19. From an early age, I was learning about mortgages, how to be a homeowner, property management, and attending strata meetings. My mom also became a realtor shortly after, so real estate came up often in our conversations. I remember listening to her negotiate offers and advising clients, and thought she sounded like a total boss. When I was looking for a career change in 2015, real estate was a natural choice and an easy transition for me, especially with my previous involvement and interest in real estate, as well as having an amazing mentor in my mom.

What do you most look forward to about coming into the rennie office?
Finding parking... just kidding! I love the fresh and professional vibe in the office! Everyone in the office is always so friendly, upbeat and helpful. The support offered at the many training sessions led by the fantastic Market Intelligence division makes it feel like we're all working as one big cohesive team.

What is the most rewarding part of the job?
The most rewarding aspect for me is making my clients happy, whether it be seeing their excitement and joy of purchasing their dream home, or showing them growth on their investment unit, or receiving genuine appreciation for my service and work.

What qualities do you most value in the people you surround yourself with?
I like to surround myself with like-minded positive individuals who strive to continuously improve themselves and their lives. I value honesty, integrity, and strong morals above all else.

What's one thing most people don't know about you?
I have a different Yoda quote monogrammed inside all my suits.

How do you start your day?
Lately, I've been doing 15-20 minutes of HIIT (high-intensity interval training) on my spin bike as soon as I wake up, followed by a nice shower to start my day. It forces me out of bed, gets my mind ready for the day, with the added benefit that your body burns more fat when you do cardio on an empty stomach.

What makes a home feel like a home?
Like most people, my bed and blankets are what makes it feel like home. I also love my home office and Blendtec blender.

What's the most memorable place you have travelled to?
Longkou, Shangdong Province, China. My great-grandparents are from a small village around Longkou, where my family tree dates back hundreds of years. Many of my great aunts and uncles still live in the surrounding rural villages with their families, and I try to visit them every time I go back to China. Talking with them, learning about their lives, and listening to their stories is both fascinating and humbling, and it really makes me appreciate how good life in Canada is and how lucky I am. Plus, with Longkou being a port city, every meal is a fresh seafood feast.

What's the first spot you go to after coming home from a trip abroad?
I always call my mom as soon as the plane lands to let her know the plane arrived safely. Then after a much-needed shower and laundry, I usually grab a drink with friends to catch up and share my adventures.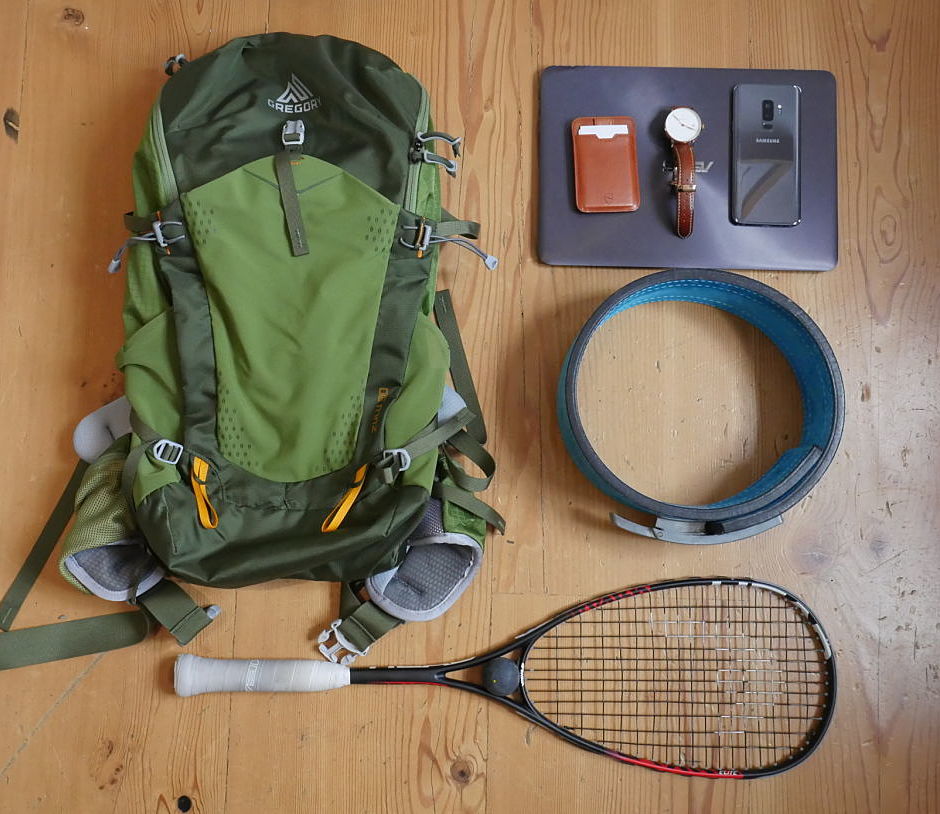 Tell us about your everyday essentials.
My wallet and watch are the accessories that I take with me wherever I go. My Ultrabook is super speedy and portable for all my work needs. My phone allows me to stay connected with family, clients, and friends. My trusty powerlifting belt increases my intra-abdominal pressure when I brace myself against it, which is essential to reducing compressive forces on spinal discs during heavy lifting. My hiking backpack is for my favourite summer activity and is perfect for an epic day hike or a short camping trip. Finally, my squash racquet represents what my friends and I are currently addicted to playing.

Thank you, Calvin! Welcome to #teamrennie!