Meet Candace Cheung, Advisor at rennie.

Why do you work with rennie?
When I was deciding which brokerage to join, I met with a few brokerages. As soon as I got to rennie and met some of the people, I knew this was where I wanted to be, and that it would be a good fit. rennie is at the forefront of western Canada's real estate marketing world, and they have an innovative brand that is well-known and highly regarded in the industry. It's a great advantage that my clients have access to. And the people! rennie is made up of like-minded professional and creative individuals. They care about the people they work with, celebrate each other's successes and never hesitate to lend a helping hand (or ear!). An added perk is being able to work in an office in one of the most gorgeous buildings in Chinatown, with the best rooftop patio and garden in the city!

What makes you passionate about real estate?
We are privileged to live in a world-class city like Vancouver, and the real estate landscape is always evolving. I love working with individuals, couples and families - connecting with them and helping them find their home in this beautiful city that I'm proud to call home. Every client, every showing, every transaction is unique and I love that my work is always kept interesting and different all the time. And the real treat is when a client is really fun to work with, and you become friends in the process!

What do you value most in your friends?
Honesty, kindness and authenticity. Being true to themselves and marching to the beat of their own drum. Having an incredible sense of humour is great, too, for all those times I get to laugh with them until my sides hurt - my absolute favourite! I consider myself very lucky to have many amazing friends, some near and some far, from various stages of my life.

What do you most value in your colleagues?
Honesty, integrity and respect. It's been great having the opportunity to work with some very creative and intelligent people at rennie. I look forward to continue working and learning with them. And sharing coffee, wine and laughs along the way!

Where do you go in Vancouver to decompress?
I like to stay active as much as I can, and I enjoy being outdoors more than anything. To decompress, I try to find time to get out on my bike, get up on the local mountains, or sweat it out at hot yoga or weight training. My favourite solitude is running the seawall around False Creek, with my music and my dog. It's where I get to clear my head and really enjoy some uninterrupted me time.

What's your favourite cheap and cheerful place to eat?
I love eating, and I love eating out. I'm always asked what my favourite restaurant in Vancouver is, but I can never answer that question. I have a lot of favourites, so it would be hard to pick just one. After a long day, I would be quite content with a bite at Vij's Rangoli. I wouldn't say it's cheap, but it's reasonably priced casual Indian comfort food. The atmosphere is always inviting and cheerful, the service is always friendly and the food is always comforting. And they serve up a fantastic cup of chai. That's just one place. I could go on!

If there's one thing you could do to continue improving this city, what would it be?
I'm excited that Vancouver is working towards becoming the greenest city in the world by 2020. I was born and raised in Vancouver, it will always be home - I am looking forward to seeing the many improvements in the upcoming years. I know the generations to come will grow up in a very different Vancouver than the one I grew up in, but it will be a better and greener Vancouver.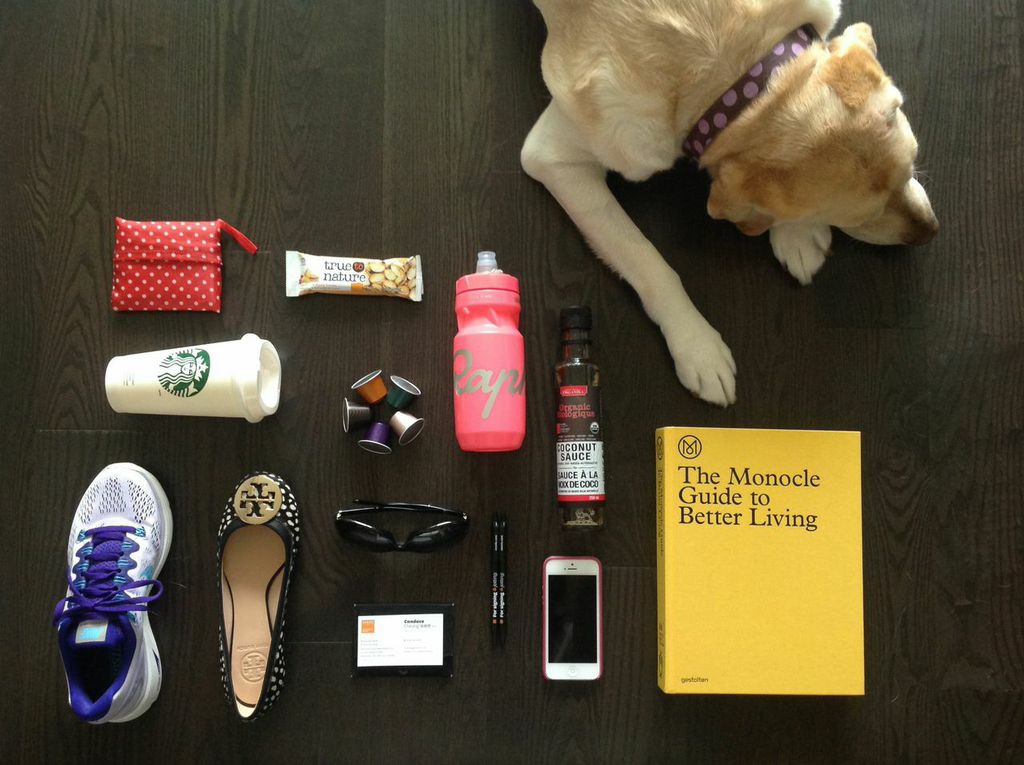 Tell us about your everyday essentials.
My morning drink of choice is either a coffee or a smoothie. As I'm on the go a lot during the day, I like to keep a water bottle with me and a fruit and nut bar in my bag. I heavily rely on my phone every day, so that along with my business cards, pens and sunnies are always with me. Also, my red polka dot reusable shopping bag for picking up groceries on the way home some days. Coconut sauce is made from coconut sap and is a natural soy sauce alternative. I put it on pretty much everything I would normally use soy sauce on and I love it. It's a little sweet and much more healthier for you! I love traveling but since I can't do that every day, I like to read little excerpts here and there from my favourite coffee table book, The Monocle Guide to Better Living, which - like the magazine - curates information on cities, business, education, culture, health, style and more around the world. And lastly, my dog: my 7-year-old yellow lab, Solah, the furry love of my life. Daily cuddles mandatory!

Thanks Candace!