Meet Chase Brettoner, an advisor at rennie. 

Why do you work with rennie?
I work at rennie because they really care about keeping their agents informed - they go above and beyond to do so with the Monday Morning Coffee meetings, Toolbox Training, Project Updates and daily informative emails with the latest in real estate news. But, above all that, what keeps me motivated is the people that I work with and the energy in the office.

What makes you passionate about real estate?
My passion for real estate stems from my passion for architecture, which I have been interested ever since I was younger. I am always very excited to see what additions will be added to the Vancouver skyline. Another thing I love about working in real estate is that you will probably learn something new and meet a new person every day. It's exciting and keeps me on my toes!

What do you value most in your friends?
Loyalty and understanding. The best friends I have today have always been by my side through the good times and, more importantly, the rough times. I am very blessed to have such a great group of friends, and I wouldn't trade them for anything.

What do you most value in your colleagues?
My colleagues at rennie are the best! No matter who I speak to in the office, they are never too busy to help me out with something I'm working on - I feel like this level of caring in a workplace is rare to find elsewhere.

If you had one extra hour every day, what would you do with it?
Try a new restaurant or coffee shop everyday.

If you were travelling abroad for one week, and could only bring one item, what would it be and why?
I would bring a camera so I can always have something to look back on to remind me of my travels and share it with my friends and family.

Name one or two of your favorite gems.
Food: Cambie Vietnamese Restaurant (on Main street & King Edward) - they treat their guests like family and the food is fantastic!

Place: The willow trees at Douglas Park - this is a great place to relax and read a book or have a picnic in the shade on a hot summer day.

My Family: I wouldn't be where I am today without the love and support of my family, I owe them all the thanks and love in the world.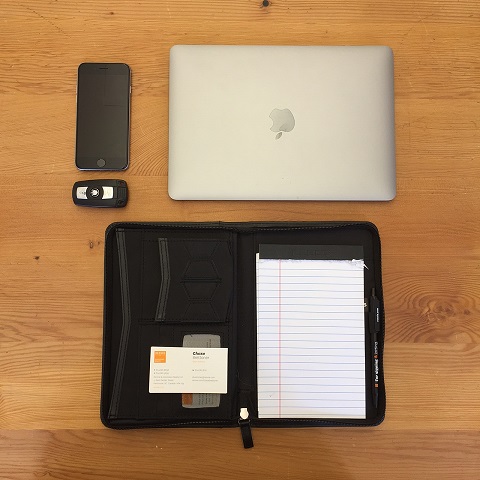 Tell us about your everyday essentials.
Phone, car keys, Macbook, pen, notebook and business cards.

Thanks Chase!