Meet Dale McGauran, member of our growing advisor team.

Why do you work with rennie?
I have worked for other brokerages in the past and when I was given the opportunity to work with rennie, I have never looked back. The people and the culture focused organization attracted me. They do truly invest in the team and relationships and that has always been my philosophy – building relationships. Whether it is beyond the sale with my clients, my friends, my team and most important to me, my grandchildren. I love the collaborative team approach at rennie – it just feels more like a family to me. I also have the unique opportunity to work on rennie projects in my own community in RavenWoods on the North Shore.

What makes you passionate about real estate?
I am passionate about real estate because of the people I meet each and every day. I work with awesome realtors in the industry, I work with wonderful first timers looking for their first home, I love working with clients downsizing like myself (boomers), young families upsizing from the condo I first sold them to their first detached home, and it is so much fun to be able to help investors, especially while working at rennie with all of the exposure we have to new development projects. I am passionate about real estate because there are no limits. We have freedom, fun, flexibility and the opportunities are endless. It is so unbelievably gratifying to be able to help people sell their home – I am passionate about the process from the staging (love this part and I stage every single listing) to the professional photographs (I stage every shot) the feature sheets, the open houses, the offer and of course the final sale! When I am working with buyers, it is so gratifying to see the look on their face when you know you have found the perfect home for them.

What do you most value in your friends?
I most value honesty and integrity, loyalty, empathy and non-judgmental friends. Laughter is also very important.

What do you most value in your colleagues?
I most value honesty, integrity, support and the collaborative team approach.

What are the biggest time wasters in your life? What do you do to manage them?
The biggest time wasters in my life are the endless paperwork and trying to figure out a technical issue with my phone or computer. The way I manage some of the paperwork is to have a wonderful assistant, and I have a great colleague that always rescues me with the techie issues!

Name one or two of your favorite gems (ie. A place, thing, etc.)
There is nothing in this world more valuable to me than my four special grandchildren – Savanna, Kenny, Naomi, and Owen. In 2017 I traveled to Ireland where my roots are and it was the trip of a lifetime for me.

Why do you love living in Vancouver?
I moved to Vancouver from Toronto 14 years ago and I absolutely love living in Vancouver. I do not have to shovel snow but I do love to ski in it, I love the ocean, the mountains where I can hike a new trail every single time, and the much slower pace of life. Vancouver is truly the most beautiful world-class city in the world.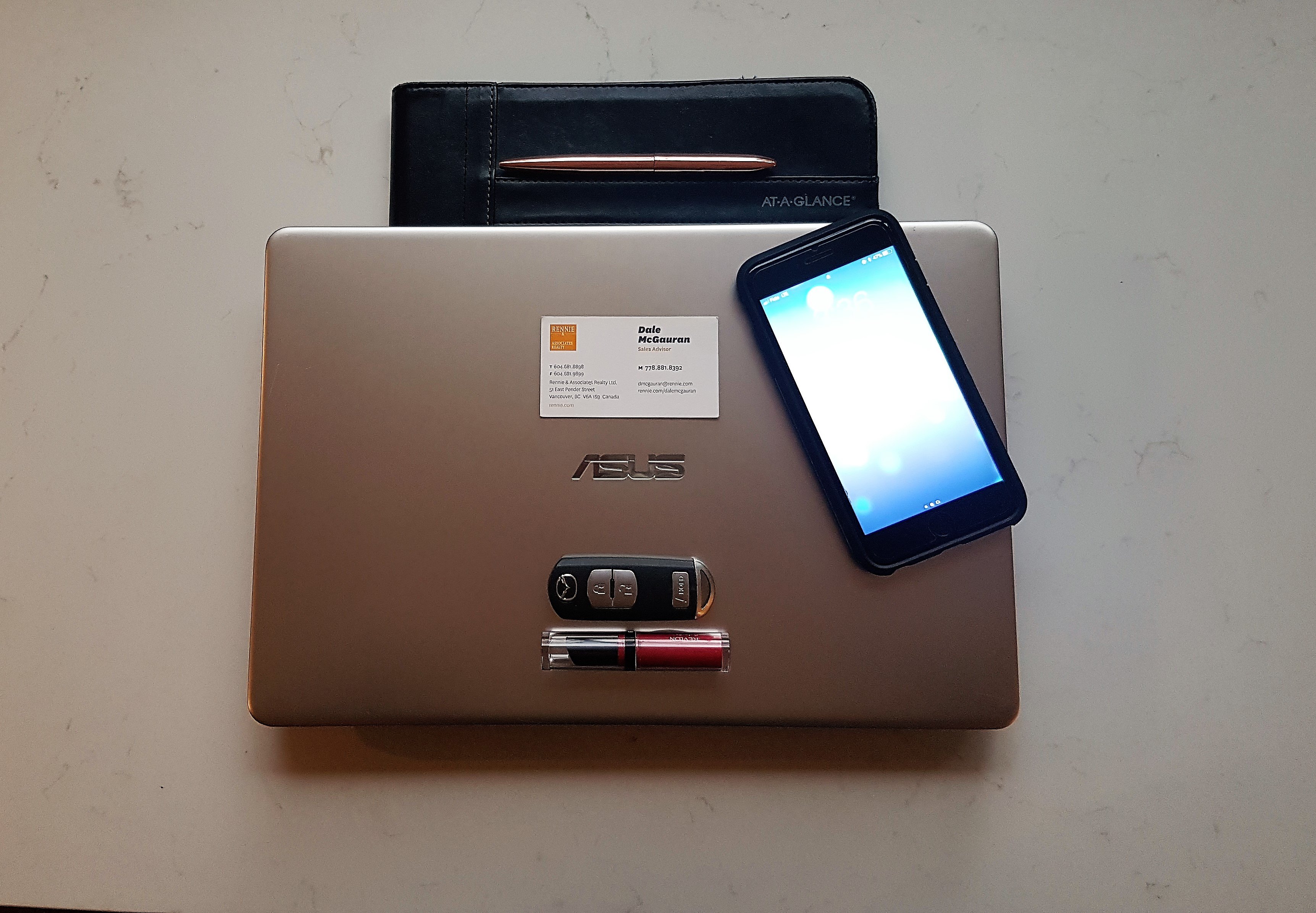 Tell us about your everyday essentials.
My everyday essentials consist of my iPhone – a lifeline to family, clients colleagues and friends, my laptop which is essential when working in a presentation centre with a project, business cards – always an essential no matter where you are each and every day, my leather daytimer portfolio, my special pen from Ireland, my colour-stay lipstick, and my Mazda 3 vehicle when working with buyers and is also so essential for my staging business!

Thanks Dale. Welcome to #teamrennie!