Meet Daniel O'Hearn, new member of our growing Advisor team.

What inspired you to join rennie?
The reputation of the company within the industry, the project marketing and the good vibes in the office. The espresso and baked goods helped too.

What got you into the real estate industry?
Real estate was always the topic of discussion at home growing up. Both of my parents worked in the industry and were a major influence on both my brother and I. As I began working in a different industry, real estate was always in the back of my mind. I eventually decided to take my licensing course without much of an idea of what exactly I was going to do with it afterwards; it was just something I knew I wanted to do. Once I finished my courses, I decided to just go for it!

What do you most look forward to about coming into the rennie office?
I like coming in because I get to see others who also enjoy coming in to get their work done. I like the energy and the attitude of the office, and if I ever have a question, there are about five different people who will offer to help.

What is the most rewarding/favourite part of the job?
I would say the most rewarding and favourite part of the job is that feeling you get when a deal finally comes together. All of the hard work you've put in has finally paid off. When everything that needs to happen lines up with one another, there is something quite satisfying about it.

What qualities do you most value in the people you surround yourself with?
People who are genuine. A good sense of humour is a close second.

What's one thing most people don't know about you?
I don't have many secrets...

How do you start your day?
I really enjoy going all-out on making myself a delicious breakfast, time permitting. My classic breakfast is two poached eggs on toasted bread with a cooked spinach spread cooked with olive oil and garlic, and a slow-cooked tomato on the side - I call it D's fancy eggs on toast.

What makes a home feel like a home?
When you can find the owner's personality all over the place.

What's the first spot you go to after coming home from a trip abroad?
Home would be first, followed by the restaurant of choice that serves the complete opposite of what I've been eating on my trip.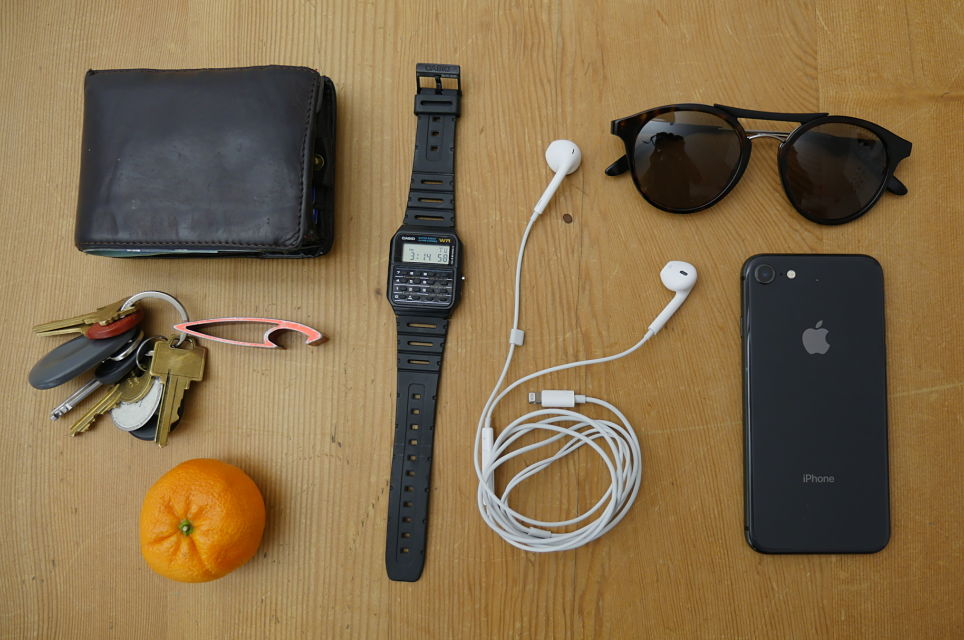 Tell us about your everyday essentials.
As a former bartender, it is now my unwritten duty that every bottle can be opened with ease whenever the situation calls for it, that's why there is a bottle opener on my keychain. Music is a big part of my life so I always have a pair of headphones on me. I will not leave the house without them. I like having my sunglasses on me especially if I am going to be riding my bike or driving. These are my Carrera 6008's which are my favourite pair. I've always thought Casio watches were cool, really dorky but cool. Over the years, this watch has grown on me. I'm all about practicality and functionality, and with Casio watches, the strap will break long before the watch does. Even the calculator function has come in handy on numerous occasions. Finally, tangerines are my favourite fruit at the rennie office, as you can eat them with one bite. I'll pop one in my mouth every few hours throughout the day.

Thanks Daniel. Welcome to #teamrennie!