Meet Janette Fricker, rennie advisor.  

Why do you work with rennie?
There is a unique and energizing dynamism within the group that I find very inspiring. People have a sincere interest in one another and a genuine desire to see others meet with success. We have direct access to an incredible depth of market knowledge which is a huge benefit for our clients. Plus we have one of the best in-house caterers in town! The chocolate cookies are a must.  

What makes you passionate about Real Estate?
The opportunity to meet and work with a wide array of interesting people and to turn those introductions into long-term relationships.  I believe that real estate provides an opportunity for my clients to be CEOs of their own investments – buying, selling or renovating, they decide what is best for themselves and their families.  It's an honour to work alongside my client CEOs in assisting them to meet their real estate goals and it is a delight to share in their joy when those goals are realized.  

What do you value most in your friends?
Shared values, sense of humour, enjoyment of good wine, and running partners who keep me going even when it's dark and wet out!

What do you most value in your colleagues?
Integrity, mutual respect, positive attitude, a spirit of camaraderie and a sense of fun. My colleagues at rennie are emblematic of these traits.

Name one or two of your favourite gems.
Grub on Main for farm-to-table freshness and a genuine local vibe. If there's a spare hour, a visit to the Vancouver Art Gallery for contemplation and inspiration.

Why do you love living in Vancouver?
I am a lifelong Vancouverite and have always valued the clean air and our proximity to the ocean and the mountains. I love hiking, biking and skiing. Recently our family travelled around the world and our return to Vancouver reinforced the incredible natural resources and cleanliness of our environment that we are so very fortunate to enjoy, along with the many conveniences in our every day that we often take for granted.  

What are the biggest time wasters in your life? What do you do to manage them?
Looking for my car key! (Now I just use the spare and replace when the other is found - usually in a pocket or purse). And at times, yes, looking for my glasses, most often on top of my head!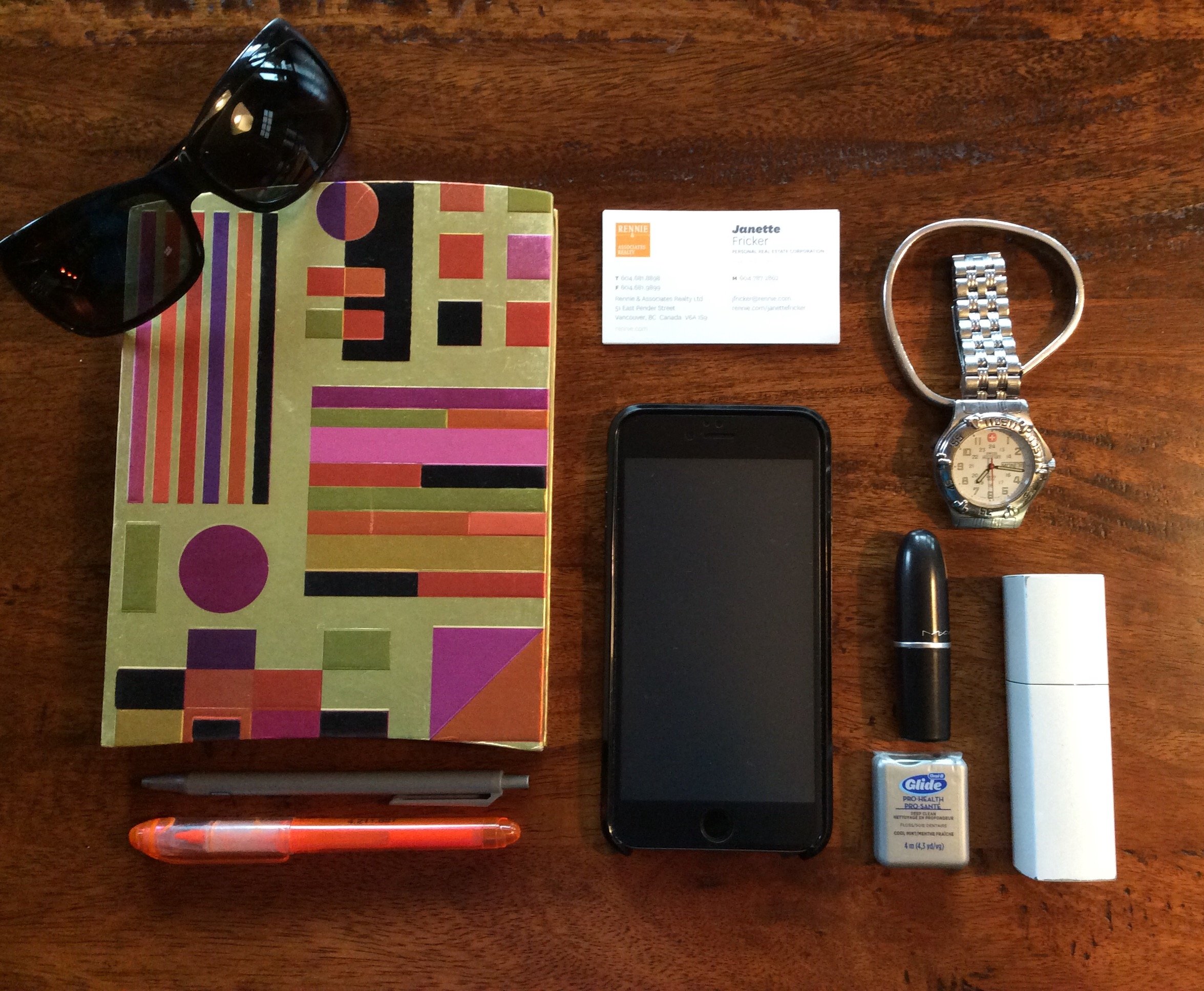 Tell us about your everyday essentials.
Pens and a highlighter for reviewing and signing contracts. iPhone for constant communication, both business and personal.  Also, I can scroll through my photos to relive some of our adventures. Business cards. Notebook for jotting down addresses, client wish lists and seemingly endless to-do lists. My watch for keeping to appointments. I attended a Douglas Coupland gallery launch whereby guests were instructed to bring a sealed bag of goodies to trade with another guest. This watch was in the bag I received. Silver bangle, purchased in Australia years ago, that reminds me of precious friends in faraway places. Coco-Mademoiselle perfume, lip colour and floss. And even though it rains here a lot, sunnies for those gorgeous days we do get treated to.

Thanks Janette!