Meet Jordan Wong, advisor at rennie. 

Why do you work with rennie?
I chose rennie for multiple reasons. First, I've been fortunate enough to know the rennie family for almost three decades. The values the rennie group exhibit and stand for as a company are the exact same as I remember the rennie family standing for then and now. It is a company and brand I am proud to represent. Second, rennie stands alone at the forefront of Vancouver real estate marketing, which provides its agents with better access to market-leading information, marketing expertise and access to new developments - which is of huge benefit to our clients. Third, rennie understands the benefits of investing in its workforce (i.e. weekly training sessions, expert seminars, monthly social outings, etc.), fostering an environment which makes it easy to grow personally and career-wise.

What makes you passionate about real estate?
I've always thrived off of strong relationships and connections with people. Real estate, being a relationship-driven industry, has been a perfect fit. I get to interact with all walks of people, uncover their goals and motivations, build trusting and lasting relationships and, ultimately, help them find their dream home. This pushes me every day and is extremely satisfying. And it's kind of in my genes (my Dad and brothers all work in the real estate world)!

What do you most value in your friends?
Loyalty, compassion, integrity and a sense of humour. I have always believed that your friends, especially your closest friends, are the "family" that you get to choose. I know that no matter how crazy life gets, my friends will always be there for me with open arms, good times and gut-wrenching laughs.

What do you value most in your colleagues?
Their drive, support and willingness to help and share knowledge. My colleagues at rennie are the best. Regardless of whether it's the seasoned veteran or the first year newbie, everyone makes time for one another to discuss business and the latest market trends or how each other's personal lives are doing. We don't consider ourselves competition or even colleagues, but family who share in each other's successes.

Why do you love living in Vancouver?
It's so cliche, but when I'm not working and looking to wind down, Vancouver's temperate weather and amazing outdoor playground provide countless activities to keep me busy and active: hiking, skiing, cycling, being a beach bum...you name the activity, and it's pretty much a stone's throw from the heart of the city! I'd be remiss if I didn't mention the amazing food scene this city has!

Name one or two of your favourite gems?
I love going on hiking adventures with my boxer pup, Maggie, to stretch my legs and clear my head. One of our favourites is Mt. Strachan. Despite its difficulty, it is always peaceful and tranquil at the top with some of the most breathtaking views of our amazing city. Two of my favourite late night hangouts are The Keefer Bar and The Diamond. Every Tuesday, The Keefer Bar has amazing live music and both bars make an absolutely killer Old Fashioned!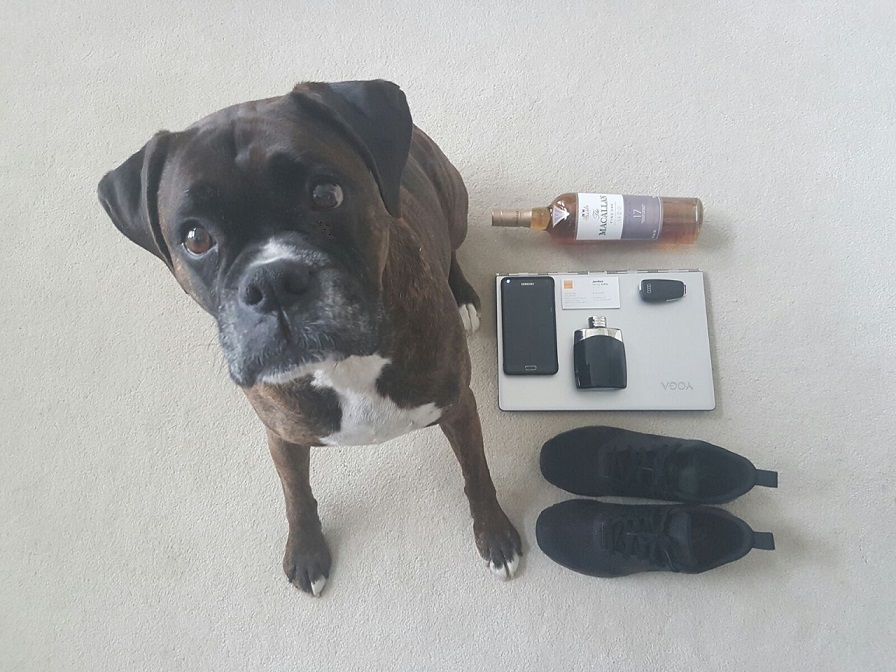 Tells us about your everyday essentials.
Runners: I love starting my mornings with exercise to get my mind and body prepped for the long day ahead. My three go-to's would be the gym, cycling and hiking one of our amazing local mountains. Cellphone: No realtor can be without one! It keeps me connected to mine and my clients needs at all times. Laptop: Regardless of where I am, I can always be prepared and ready for all my meetings. Car Keys: Despite my love for cycling, it doesn't quite cut it when you're driving around clients! Business Cards: You never know when you're going to be meeting your next potential client! Montblanc Legend: A quick shot of my favourite cologne every morning to help me stay fresh. Scotch or Whisky: Realtors have pretty demanding lives that can run from 5am or 6am until well past midnight. A little nightcap definitely helps ease some of that stress! Maggie: My goofy boxer-pup is my rock. I adopted her 5 years ago and it was one of the best decisions I've made. One cuddle or kiss from her and everything is better!  

Thanks Jordan!