Meet Maria Foronda, new member of our growing Advisor team.

What inspired you to join rennie?
After a couple years of working as an independent realtor, I started thinking about going into project sales but I was hesitant as I felt like I would have to abandon my resale business. However, I discovered that rennie was the perfect fit as they offered the support, resources, and opportunities to grow your career, whether it be in the presale or resale side of the industry. On top of that, I heard a lot of great things about the brokerage from other rennie agents.

What got you into the real estate industry?
Ever since entering the workforce at 15 years old, I've always worked in customer service. After graduating from post-secondary, I decided to try something new by working in IT. Sitting behind a computer for 8 to 10 hours a day was not for me and I realized how much I missed interacting with a wide range of people on a daily basis. After going house hunting with one of my friends for her first home, I decided to give being a realtor a go.

What do you most look forward to about coming into the rennie office?
The positive and supportive work environment.

What is the most rewarding part of the job?
Helping my clients transition into a new chapter in their lives. Whether it's helping them find their dream home or selling their current home to move into a bigger space for their growing family, it's such a rewarding experience playing a part in helping them achieve their goals.

What qualities do you most value in the people you surround yourself with?
Good intentions, honesty, and humour.

What's one thing most people don't know about you?
I'm extremely scared of heights, but bugs and needles don't phase me.
How do you start your day?
After hitting the snooze button a couple of times, I roll out of bed. If I don't need to leave the house right away, I'll make myself a bowl of oatmeal. What makes a home feel like a home? A home filled with whatever makes you feel most comfortable and at peace. Whether it be decorating it with your own personal style, housing all your belongings, or simply just sharing a roof with the people you love. What's the most memorable place you have travelled to? The Philippines! It was such a fun and eye-opening experience because their culture is so different from what I'm accustomed to in Canada. I gained a newfound appreciation for the simples things I normally take for granted such as clean tap water and toilet paper in public washrooms. I also indulged in a lot of delicious food and had access to a lot of awesome skin care products. The best part though was reconnecting with family members that I haven't seen in years. What's the first spot you go to after coming home from a trip abroad? My bed to cuddle with my dog, Henry. There's nothing better than sleeping in your own bed after travelling.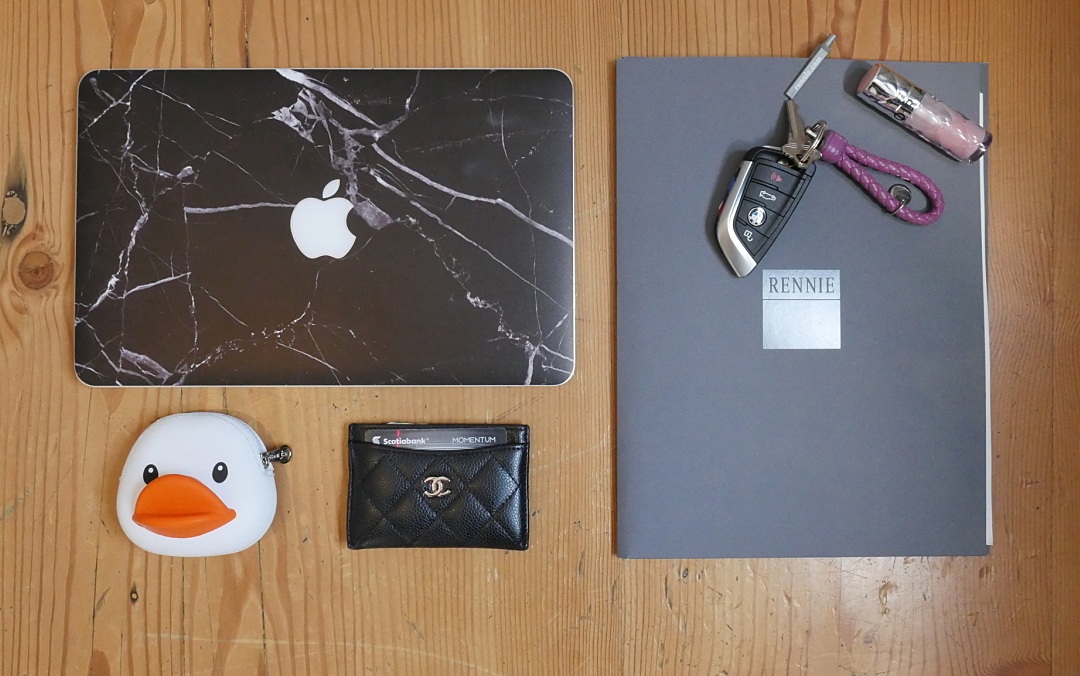 Tell us about your everyday essentials.
My car keys, laptop, cardholder and earphones are the key items I need to do my job. There's always at least one lip gloss in my bag, this one by Sephora is my favourite.  And the story behind my duck coin purse is that I bought it while I was wandering around a department store in the Philippines, it makes me laugh every time I pull it out of my bag.

Thank you, Maria. Welcome to #teamrennie!