Meet rennie advisor Sabrina Gao.

Why do you work with rennie?
I enjoy working with the rennie team not only because we have the best marketing resources for our clients, but also the concept that rennie has, the team-oriented working environment, which differentiates our brokerage from others. At rennie, I always feel supported and inspired. rennie also hosts various events (movie night, yoga class, summer BBQ, Christmas party and so much more) year round which really adds to the enjoyment of being part of the company.

What do you most value in your friends?
Life is just better when you are surrounded by friends who are trustworthy, supportive and have a good sense of humour. I really appreciate my friends for accepting me for who I am and for staying with me through thick and thin.

What do you most value in your colleagues?
I value their character most of all. They are the foundation of the rennie experience. So thank you all for being kind and supportive; I look forward to working together for many years to come!

Why do you love living in Vancouver?
Vancouver is the most beautiful city and the perfect place to live. What I appreciate most about Vancouver is the combination of modern architecture, beautiful natural resources, and our diverse culture. Vancouver is filled with people from all walks of life; the city fully embraces whoever we are.

What makes you passionate about real estate?
When I think about the day to day aspect of my work, there are two things I am deeply passionate about in real estate: Buying or selling a home can be a huge milestone in life; for me, to be able to help someone achieve that milestone is a very meaningful and rewarding experience. Secondly, as a real estate agent, we pay close attention to the city as it develops. We are notified when new projects are announced all over the city. It is exciting to watch the city grow and evolve over time.

What is your favourite gem?
My favourite gem is definitely my aroma diffuser. It effectively disperses a lavender scent all around my room. After a long day, it always helps me relax and unwind.

What is your biggest time waster in your life?
Going for a coffee. It is easy to be addictive to the taste of espresso and sometimes one cup a day is just not enough. If you account for the travel time, waiting in line, and multiple trips, it really adds up! I think the most effective way to manage my time waster is to simply cut down on coffee consumption; which is something I am actively working on lately.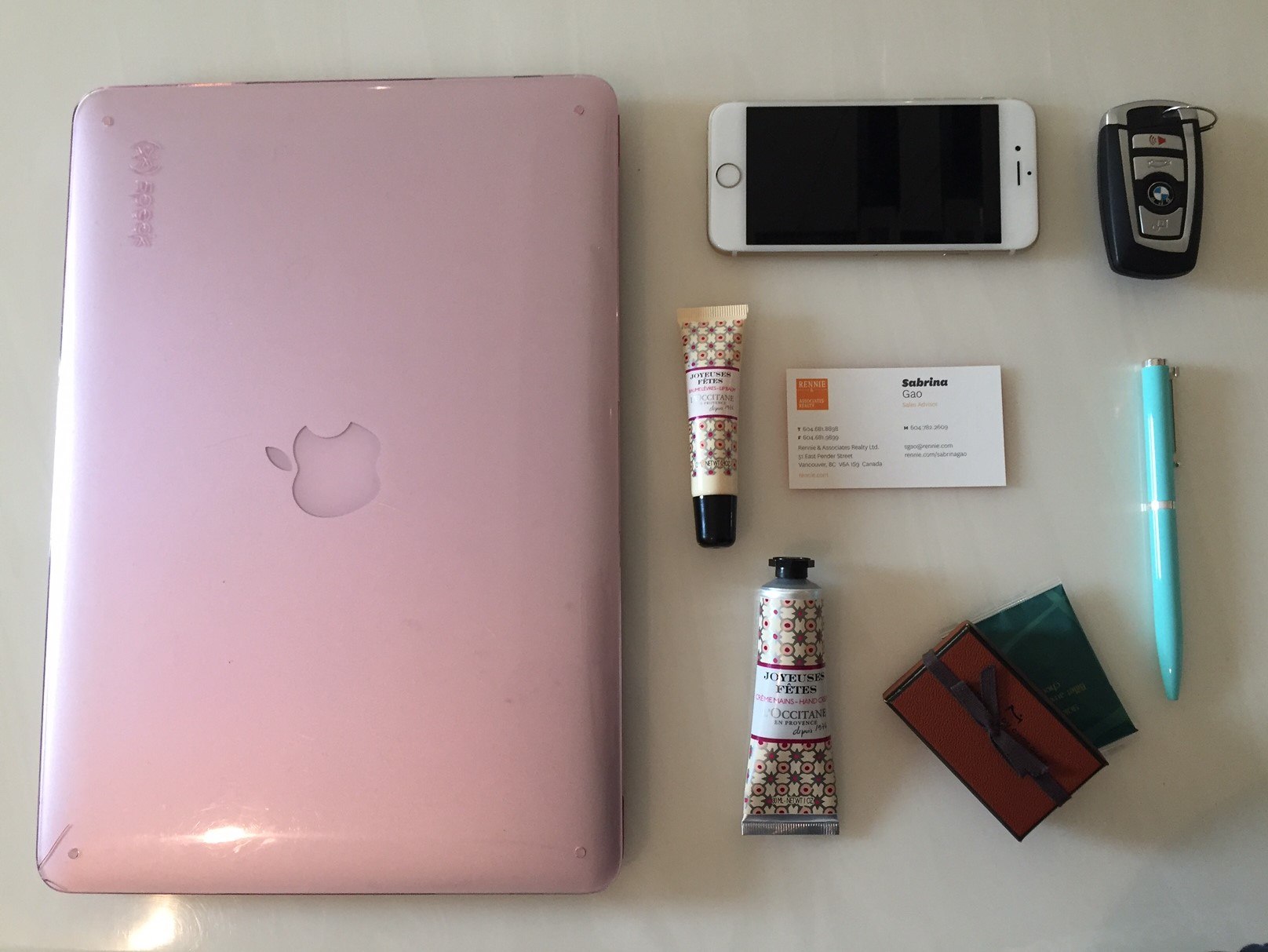 Tell us about your everyday essentials.
My top 3 daily essentials include my iPhone, computer, and car keys; like every other realtor, these items keep me connected with my clients. Honourable mentions are hand cream and lip balm (they are great to have on the go), business cards and a pen (come in handy), and snacks (for that much-needed boost in energy).

Thanks Sabrina. Welcome to #teamrennie!