Meet Sam Abadian, new member of our growing Advisor team.

What inspired you to join rennie?
In Vancouver, rennie is a real estate powerhouse. I'm always looking to grow individually and professionally, and I see no better place to grow than at rennie. At the same time, I want my clients to have the best resources when it comes to real estate and rennie puts me in the position to provide that to them. Real estate aside, the culture at rennie is phenomenal. 

What got you into the real estate industry?
The love of architecture and interior design. I've always been fascinated and drawn to different types of architecture and design from all over the world. Raised in a family that was heavily involved in real estate and construction, I accidentally absorbed all this knowledge, and I was surprised by how much passion I had for real estate. Sitting around the dinner table talking about real estate with friends and family, I realized at an early age that it wasn't something my peers were necessarily into.

What do you most look forward to about coming into the rennie office?
The atmosphere and culture at rennie are incredible. It's one big family. Everyone works as a team and takes equal pride in the company. When I step into the office, it's almost like I am entering a different city with its own specific experience. It's being around the people that work here that I look forward to the most every day. 

What is the most rewarding/favourite part of the job?
Having the opportunity to meet different people in the city I grew up in is definitely one of my favourite parts of my job. The most rewarding part is helping my clients grow their portfolios and wealth through real estate. 

What qualities do you most value in the people you surround yourself with?
I truly believe life is 10% what you experience and 90% how you respond. Resilience, drive, optimism, and passion are qualities I love to surround myself with as it inspires me to improve and grow each and every day.

What's one thing most people don't know about you?
When winter arrives in Vancouver, most people get there skis and snowboards ready and head to one of Vancouver's beautiful ski resorts. I, on the other hand, go to restaurant hunting. I am a big lover of great food. Ask me about any restaurant in the city and I'll definitely have a personal review. 

How do you start your day?
My morning routine includes having a smoothie and heading to the gym. Lately, I've been waking up earlier and going to the gym in the mornings rather than at night. This is followed by breakfast at home, or sometimes I'll have breakfast meetings. 

What makes a home feel like a home?
History. Familiarity. Experiences. It's the accumulation of all the tiny details...from your side of the bed, to your own shower. It's the place you hit your head at the age of ten, or the time when mom spilled wine all over the carpet. All these memories make a home a home.

What's the most memorable place you have travelled to?
Portugal. It's one of the few countries that draws me back every year. The people of Portugal are extremely warm, kind, and welcoming. The culinary scene is surprisingly one of the best in Europe. And the islands, beaches, and coastal line are so scenic and beautiful.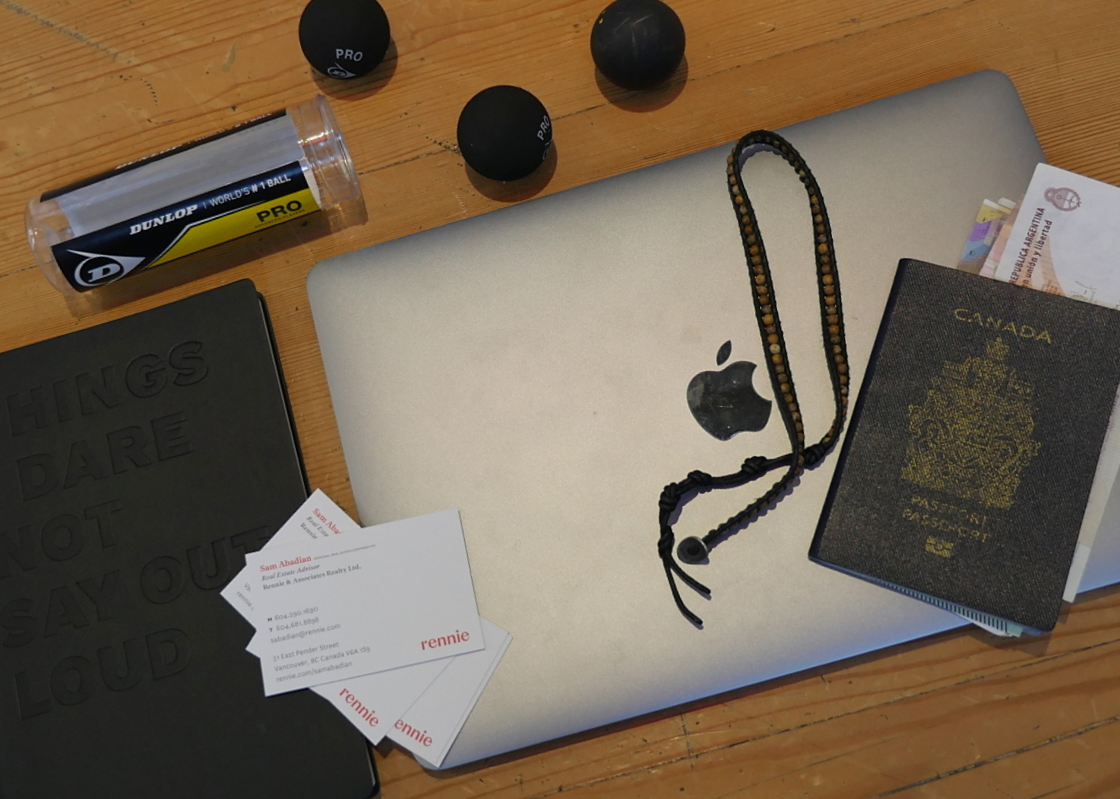 Tell us about your everyday essentials.
I've been trying to master the art of work-life balance. Every year I'll pick several destinations and go on a journey for as long as possible. I love collecting and through my travels I've collected different currencies, and from different types of beaches, boarding and train passes and a symbol that best represents every country I've visited. Of course in this day and age, you need to stay connected at all times especially with the amount I travel. My laptop is my portal to my work. I could not live without it. 

Thank you, Sam. Welcome to #teamrennie!