Meet Tina Baloochestany, member of our growing Advisor.

Why do you work with rennie?
i was referred by 2 of my closest girlfriends but also fell in love with the friendly, welcoming and inclusive atmosphere at rennie! I've never experienced or even heard of anything so special in any other work place. The positive energy at rennie is very unique and the fact that it exists in such a highly competitive industry is remarkable.  

What makes you passionate about real estate?
I enjoy connecting with people and want to help them achieve their goals.  

What do you most value in your friends? Honesty, reliability, positivity, kindness and a sense of humour.  

What do you most value in your colleagues? Honesty, integrity and respect.

What are the biggest time wasters in your life? What do you do to manage them?
Social media....I limit my usage to 10 minutes per day.  

Name one or two of your favorite gems (ie. A place, thing, etc.)
In terms of places, it would have to be South Beach (Miami), Punta Cana (Dominican Republic, where I just returned from) and the Marinaside Seawall in Vancouver....it's such a breathtaking area to exercise while enjoying fresh air.  

Why do you love living in Vancouver?
Because I'm fortunate enough to call it home! Having lived in L.A. and Miami for a few years - I have great perspective and sense of appreciation for Vancouver. I love travelling but the more I do, the more I look forward to coming home! It's not only a beautiful, peaceful, clean, safe and easy to navigate city, but also full of friendly, genuine, polite people and the most diverse and delicious cuisine!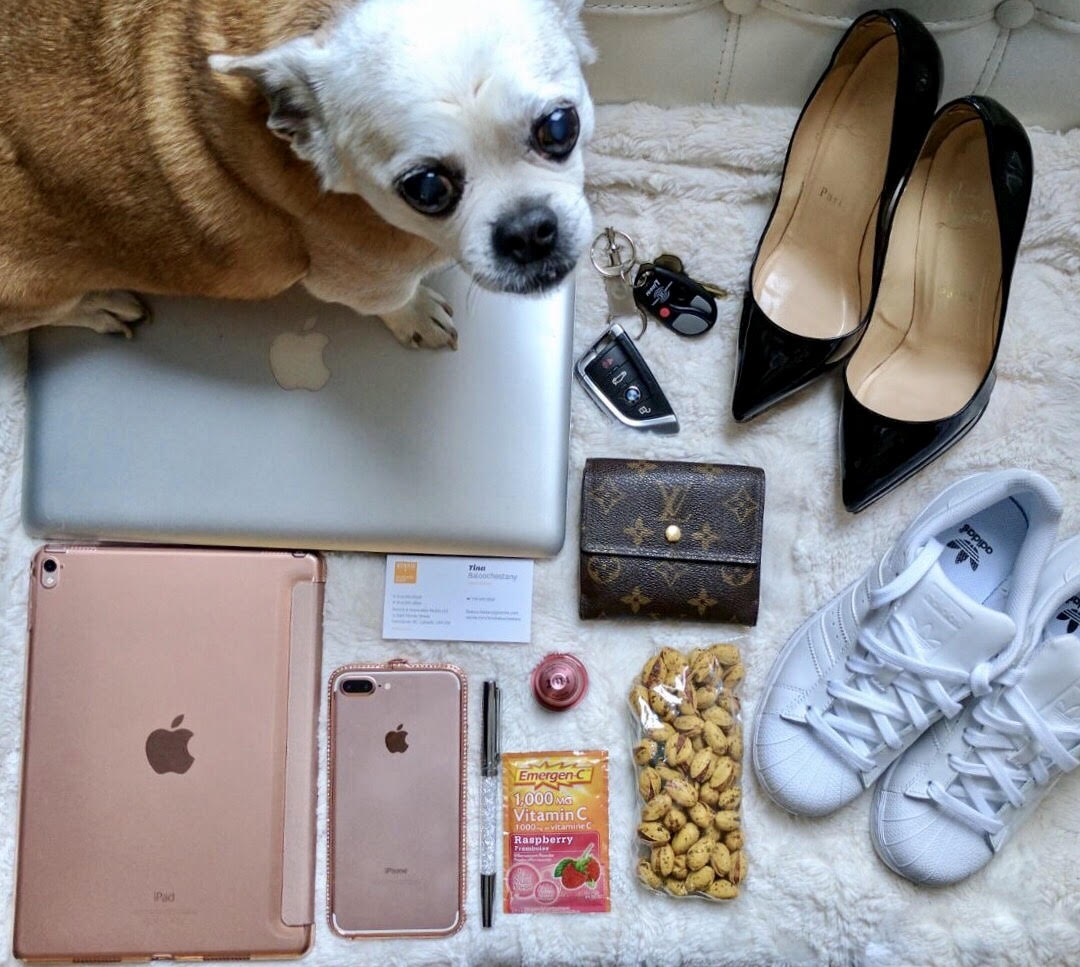 Tell us about your everyday essentials.
I start each day with vitamins and an EmergenC, then breakfast and Nespresso (current fave is the Vintage 2014, which just sold out!). I can't get far without my wallet, iPhone and keys. I'm a huge recycler and hate wasting paper, so I usually carry my iPad around, and at home I use my MacBook - 5 years old and still going strong! Business cards are essential, as well as a good pen, snacks and hand cream. I love walking around, usually in sneakers while running errands and heels while working. At the end of each day, I look forward to seeing my husband and furbaby (pictured) who of course loses his mind when I walk in :) 

Thanks Tina!