Considering the broader macroeconomic context—characterized by high inflation, high and rising interest rates, and a tight labour market—the prevailing lethargic supply and demand dynamic in the Vancouver Region in November was not unexpected. That said, sales counts are particularly low, with the 2,400 transactions last month ranking second-lowest in the past 20 years.

Sales
November marked the 8th straight month of declining sales counts in the Vancouver Region, with the 2,409 sales falling short of the 3,000-threshold for the 5th consecutive month. Last month was also the second-lowest count of sales in any November in 20 years (2008 being the exception), with sales lower by 39% versus the past-decade average.
Much, but not all, of the October-to-November decline, was seasonal, with the 13% drop-off in sales this year comparing to a more typical 10% decline. Month-to-month townhome sales fell the most among home types, at 20% (to 415), compared to October. Condo sales dropped by 12% (to 1,124), while detached homes sales declined by 11% (to 804).
Compared to November 2021–when the region tallied more than 5,300 (the second-highest ever recorded) sales, last month's counts were severely depressed. Townhomes sales were down the most, at 57%, versus last year, followed by detached homes (55% down) and condos (54% down).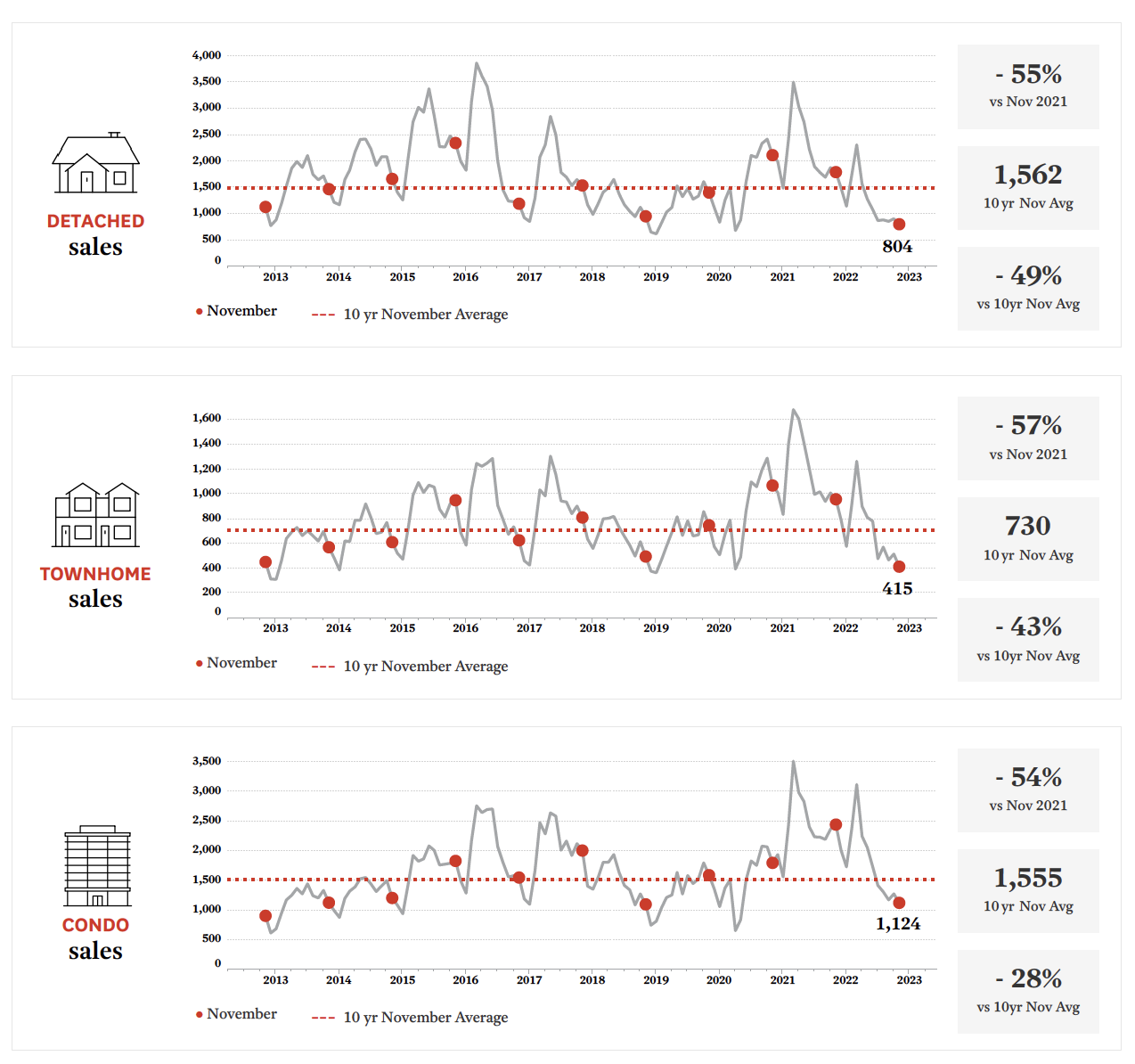 Total Listings

A continued strong labour market, elevated listing cancellations, and a slow-flow of new listings has kept a lid on inventory in the Vancouver Region: compared to the past 10-year November average, last month's listings count of 13,686 was 17% lower.
Compared to October, November's listings fell by 7%, which is mainly in line with the typical seasonal decline of 8%. Townhome and detached home listings fell by 8% (to 1,995 and 5,944, respectively), while condos declined by 5% (to 5,276). Compared to our historical tight market last year, current townhome inventory is 97% higher, detached home listings are up 41%, and condos are up 29%.
In November, there were 5.7 months of inventory (MOI), indicating overall balanced conditions. The detached home segment (7.4 MOI) sits at the high end of balanced, while sellers' market conditions prevail in the townhome (4.8 MOI) and condo (4.7 MOI) segments.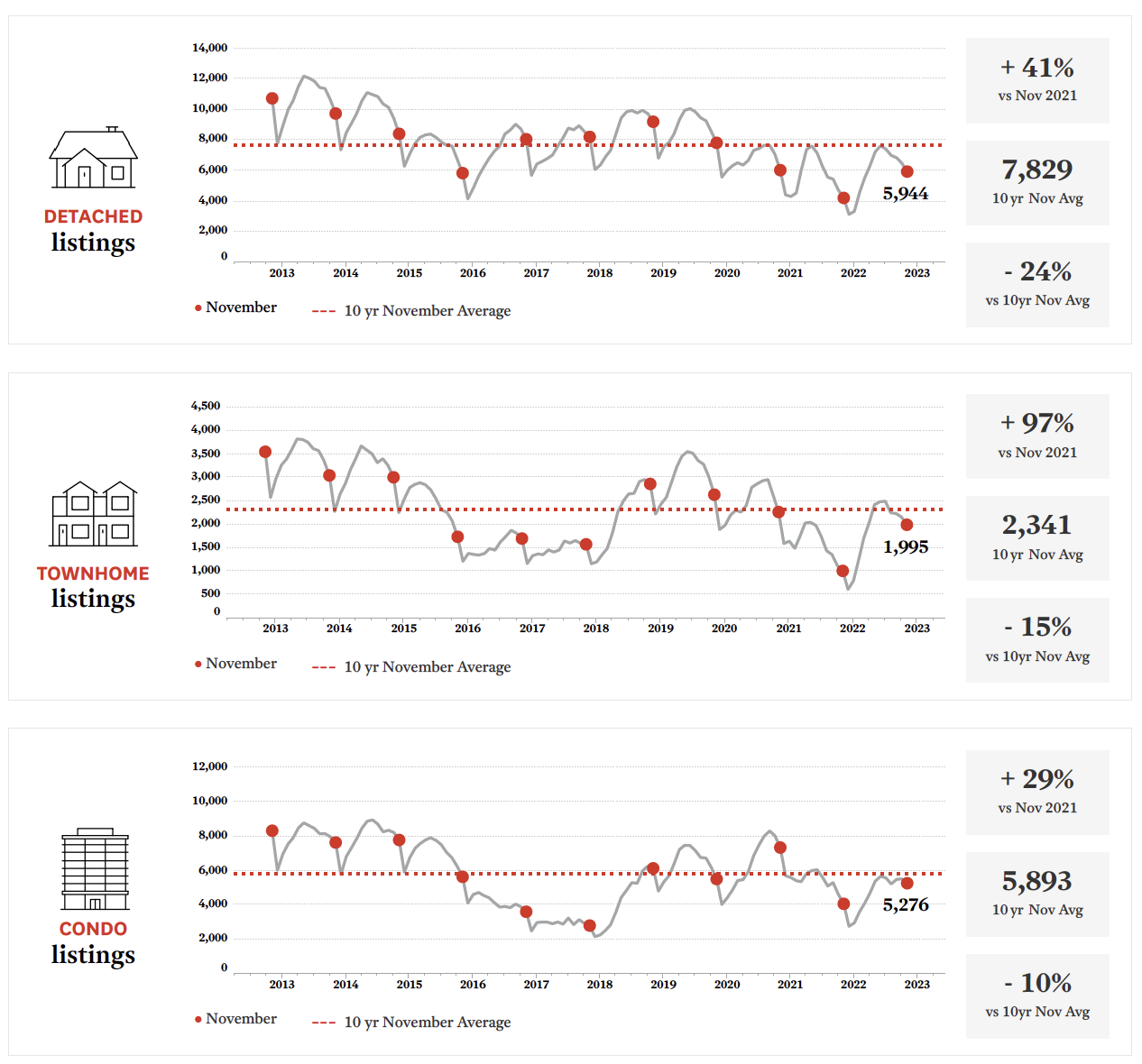 Median Prices

The Greater Vancouver and Fraser Valley board areas experienced both month-over-month declines in median sold prices (averaging 3% and 1.9% across home types, respectively) and year-over-year declines (averaging 4% and 9%, respectively).
Compared to October, the median sales price of detached homes fell in both board areas in November— by 1.7% in Greater Vancouver and by 6% in the Fraser Valley. Townhome median prices declined by 8% in Greater Vancouver, but rose by 4% in the Fraser Valley. Median condo prices rose by 0.4% in Greater Vancouver, and fell by 3% in the Fraser Valley.
Compared to last year, detached home and townhome median prices were lower in Greater Vancouver (by 9% and 5%, respectively) as well as in the Fraser Valley (by 5% and 3%, respectively). Condo prices were higher in Greater Vancouver by 1.9% but were lower by 4% in the Fraser Valley.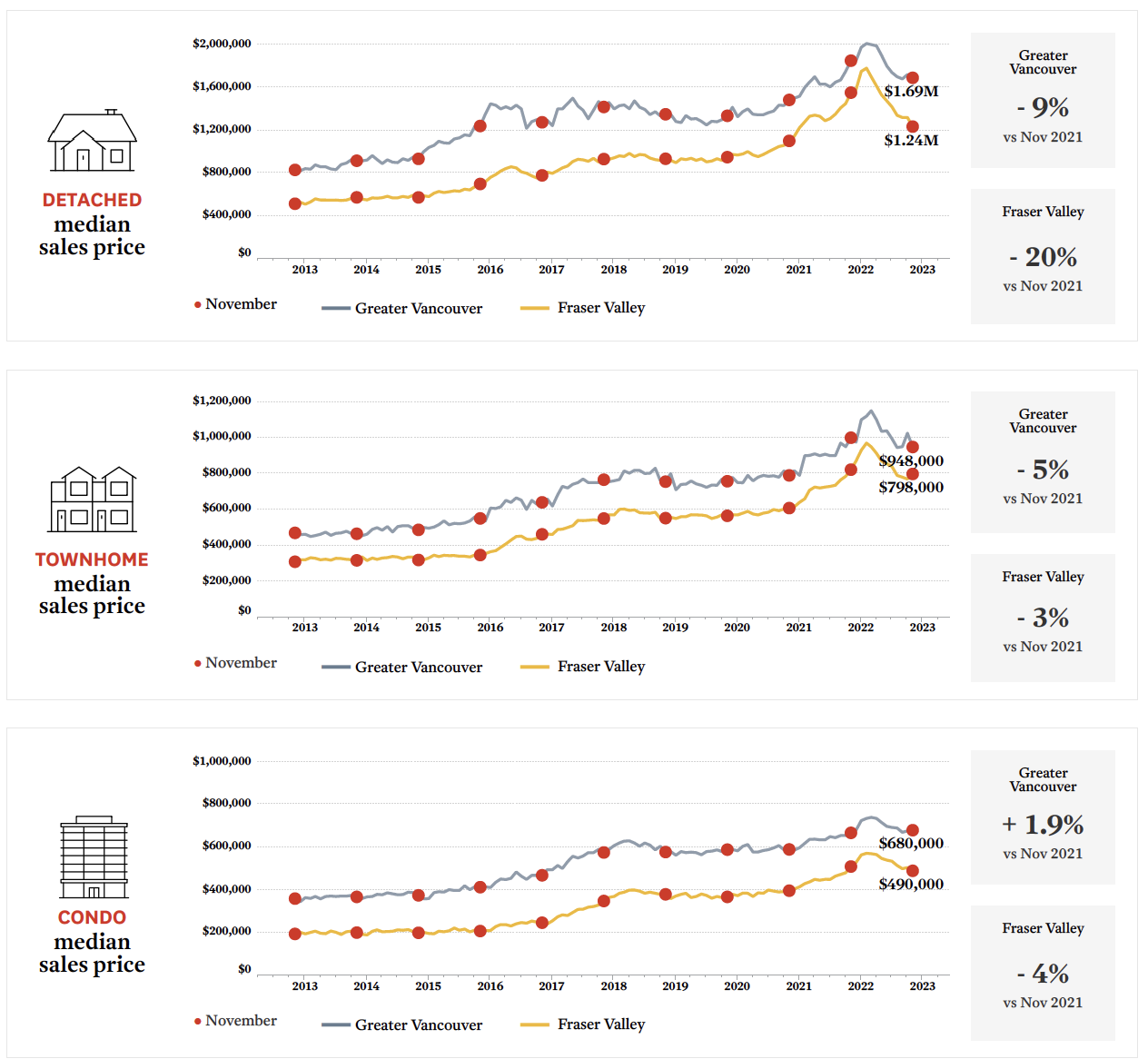 Our rennie intelligence team comprises our in-house demographer, senior economist, and market analysts. Together, they empower individuals, organizations, and institutions with data-driven market insight and analysis. Experts in urban land economics, community planning, shifting demographics, and real estate trends, their strategic research supports a comprehensive advisory service offering and forms the basis of frequent reports and public presentations. Their thoughtful and objective approach truly embodies the core values of rennie.
Get the data
Receive insights, analysis, and perspective from our rennie intelligence team on the Lower Mainland's real estate market.