December's inertia—or rather, inert market conditions—carried into January, featuring subdued sales and lethargic listings in the Vancouver Region. The detached home segment, having previously been balanced, now favours buyers.

Sales
 In January, there were only 1,624 MLS sales in the Vancouver Region, representing the 10th consecutive month of declining sales counts. This was the second-slowest January for sales since 2001 (January 2009 being the slowest, the result of the 2008/09 credit crisis). January's total sales were also 42% below the past-decade January average.
The 17% drop in sales count between December 2022 and January 2023 was greater than the typical seasonal decline of 13%. Detached homes fell the most at 19%, followed by condos at 17% and townhomes at 15%.
Compared to last January, this past month's sales were down 54%. This was unsurprising given both the current high inflation/interest rate environment and the fact that January 2022 recorded the third-most sales in this region's history.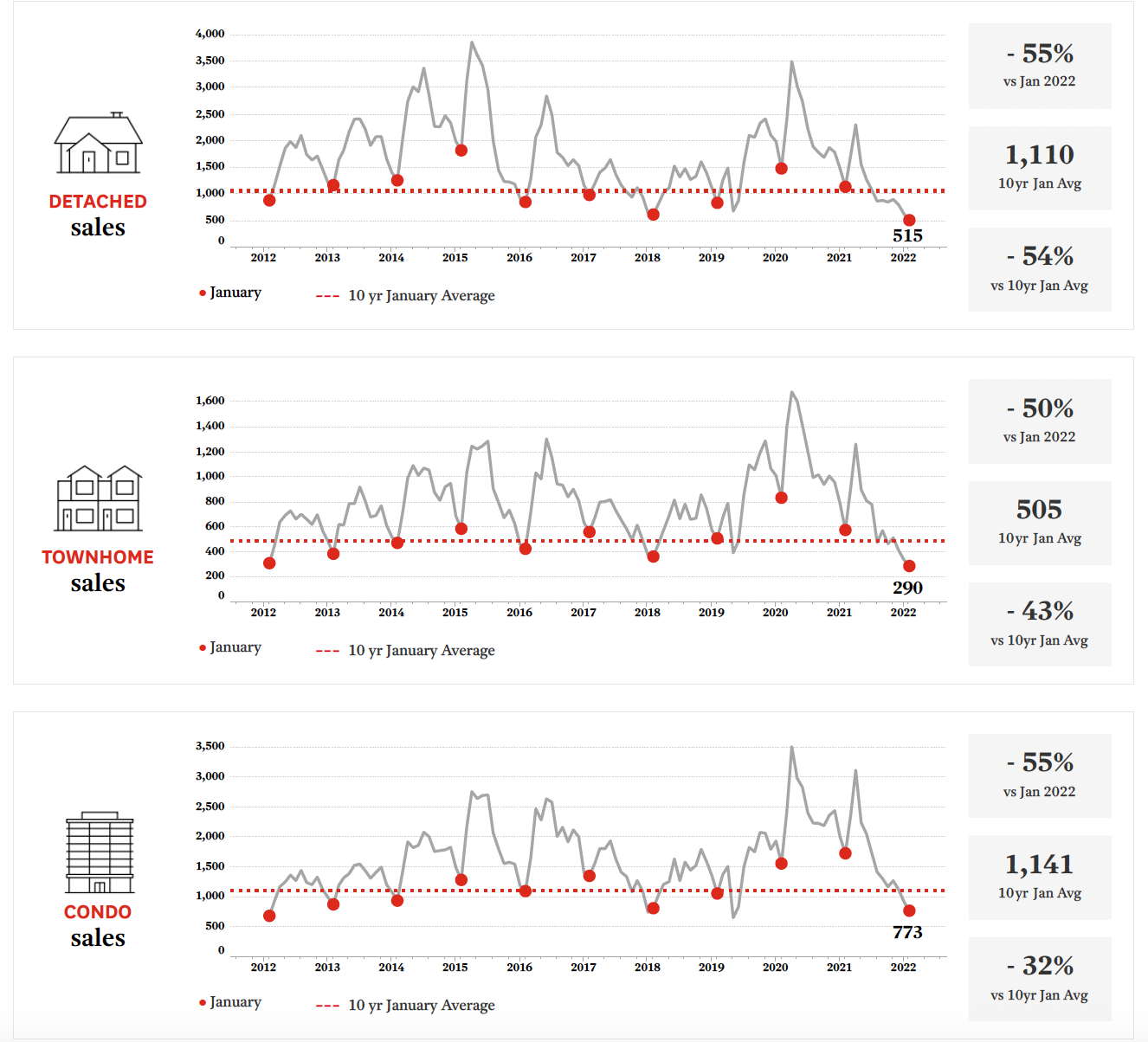 Total Listings
Incredibly, resale inventory by the end of January (at 10,684 listings) was down 2% compared to the end of December 2022— a significant deviation from the typical 11% increase observed at this time of the year. Detached homes and townhomes experienced a 7% and 3% decline in listings (respectively), while condo inventory rose 5%.
Compared to January 2022's second-lowest inventory for any month ever, January 2023's inventory was 45% higher. Townhome listings were up the most (by 91%), followed by condos (+46%) and detached homes (+33%).
The overall housing market remained balanced in January, with a months-of-inventory (MOI) measure— the number of months current inventory could satisfy the current pace of sales— of 6.6. The townhome and condo market were balanced, with MOIs of 5.2 and 5.6, while the detached market favoured buyers (with an MOI of 8.6).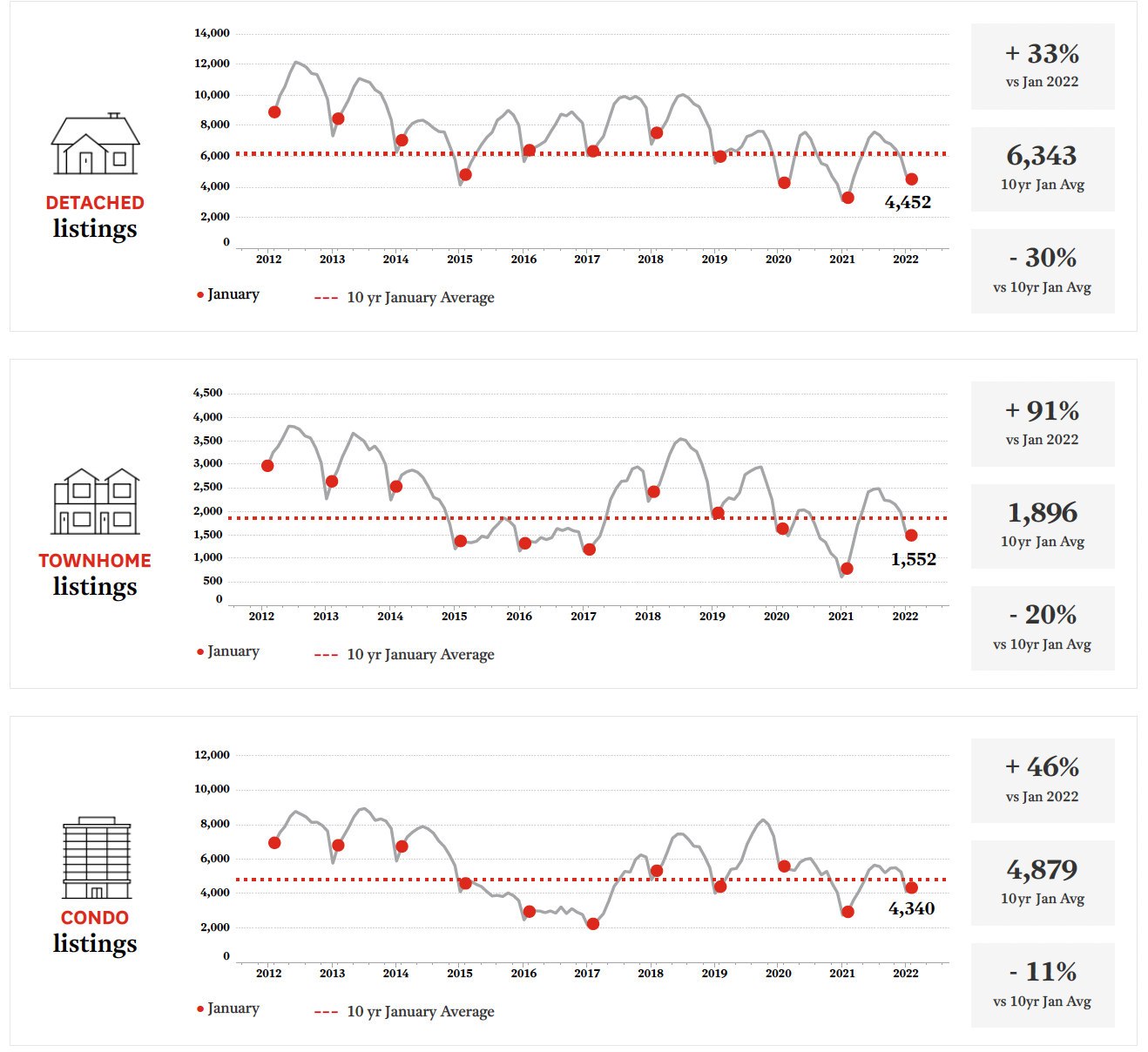 Median Prices

On a month-over-month basis, January's median sold prices, on average, decreased by 3% in theGreater Vancouver board area and increased by 0.7% in the Fraser Valley board area. Compared to last year, median prices were down by an average of 12% and 20% in the respective board areas.
In Greater Vancouver, detached home and townhome median prices were up 7% and 1.5%, respectively, in December versus January; condo prices, on the other hand, were down by 0.7%. For the Fraser Valley, prices remained the same for detached homes and townhomes, whereas condo prices were up by 2%.
On a year-over-year basis, prices were lower across all home types in both board areas. Detached homes were down by the most, at 20% in Greater Vancouver and 27% in the Fraser Valley. Townhomes were down 12% and 20% respectively, whereas condos were down 5% in Greater Vancouver and 12% in the Fraser Valley.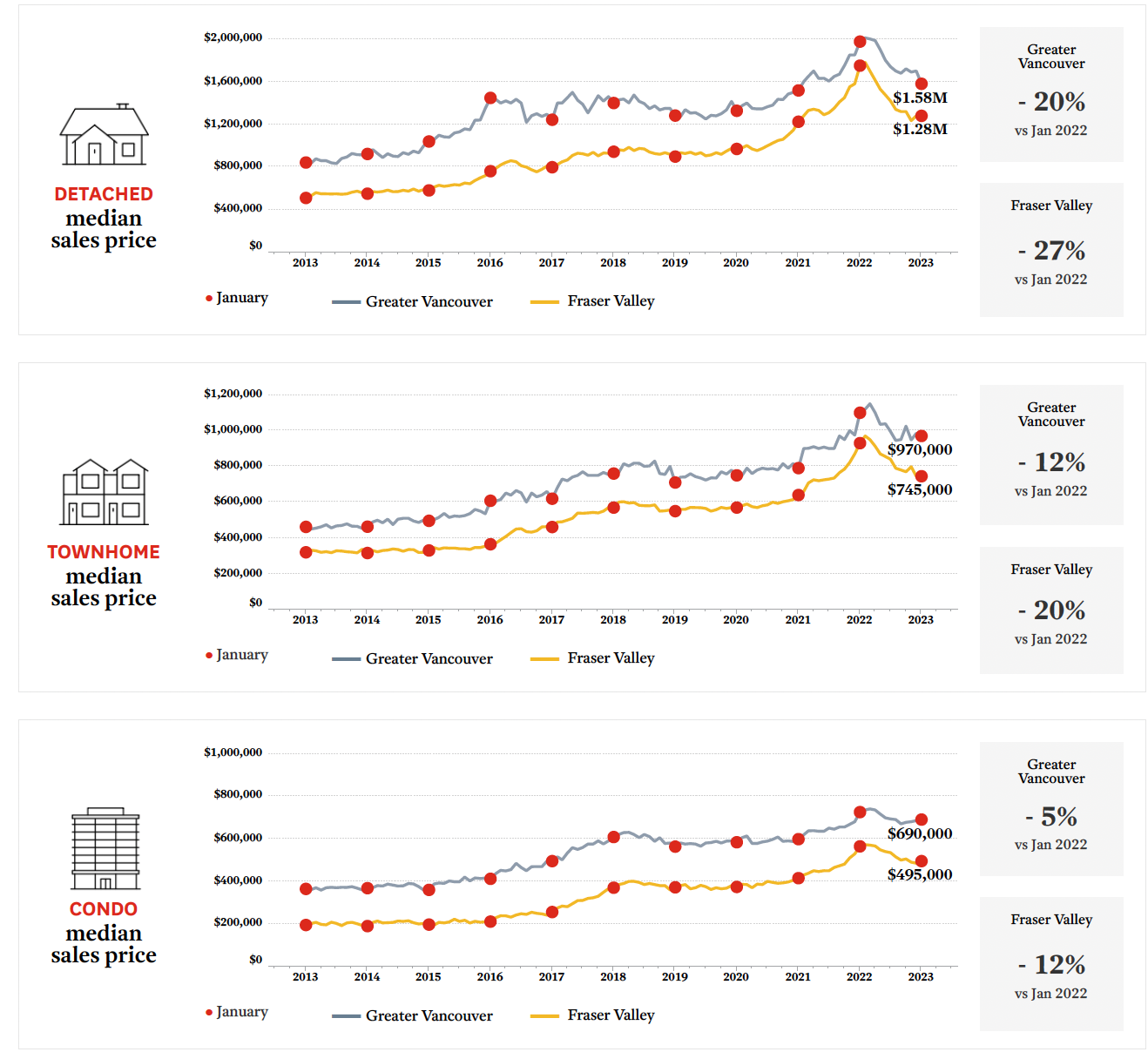 The rennie advance is a monthly publication which includes a brief summary of the latest regional housing sales and listing activity, produced the same morning as the data is released.Our rennie intelligence team comprises our in-house demographer, senior economist, and market analysts. Together, they empower individuals, organizations, and institutions with data-driven market insight and analysis. Experts in urban land economics, community planning, shifting demographics, and real estate trends, their strategic research supports a comprehensive advisory service offering and forms the basis of frequent reports and public presentations. Their thoughtful and objective approach truly embodies the core values of rennie.
Get the data
Receive insights, analysis, and perspective from our rennie intelligence team on the Lower Mainland's real estate market.