As inflation has risen in Canada, so have inflation expectations—something the Bank of Canada is keeping an eye on.
Inflation expectations—that is, the extent to which households, businesses, and governments think prices will rise in the
future—can be a self-fulfilling prophecy. If everyone thinks that everything will be 5% more expensive next year, for example,
then employees will ask for, and get, 5% raises; firms will raise their prices by 5%; and everyone will ultimately spend 5% more. Consequently, the Bank of Canada monitors not only year-over-year headline inflation but other measures of price changes (including trim, common, and median inflation) and, yes, expectations of future inflation.
According to a survey of Canadian businesses, inflation expectations of 3% or more for the next two years have more than doubled in the past 12 months from 35% to 78%. That an overwhelming majority of Canadian firms expect higher inflation over the next two years than they did just two years ago is notable and signals an increased risk of inflation becoming entrenched. This is yet another indication that the Bank of Canada will pursue a hawkish monetary policy through increasing interest rates and quantitative tightening in the coming months.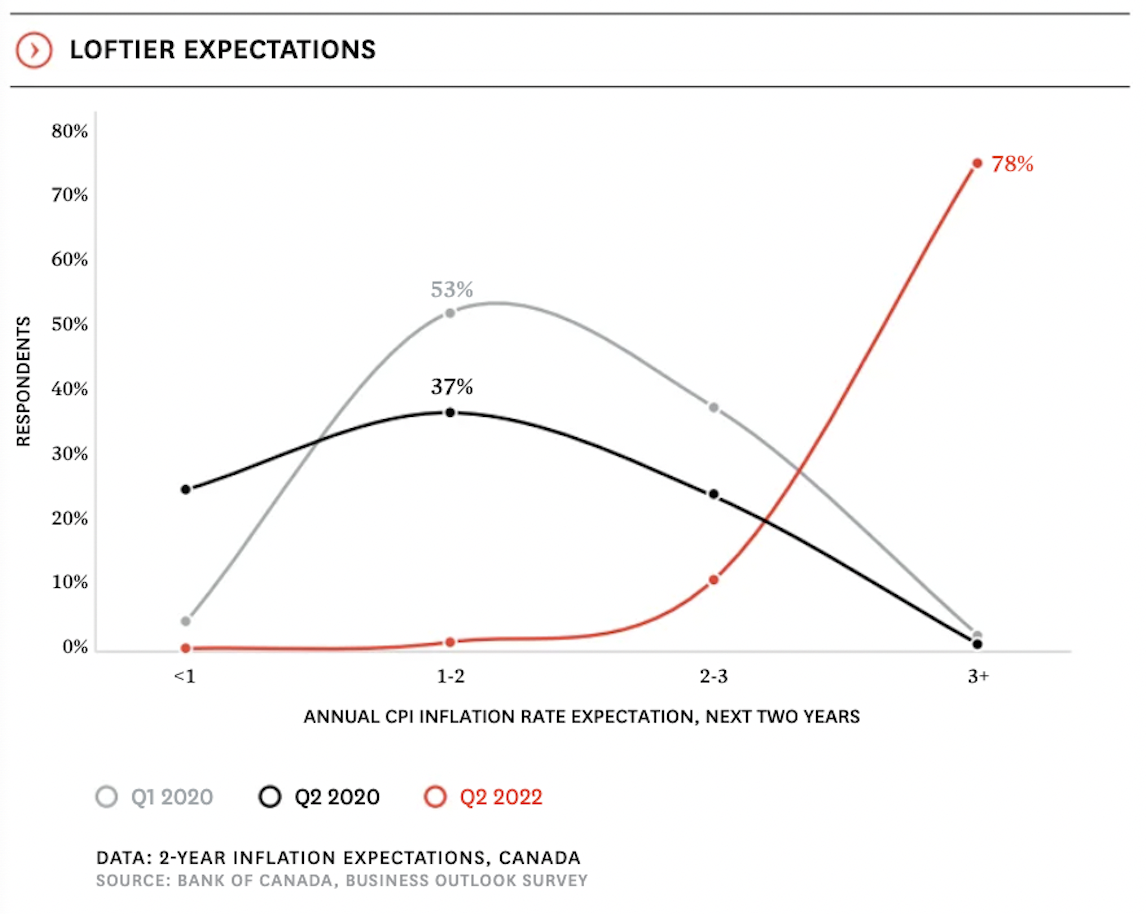 Twice a year, rennie intelligence produces the rennie landscape, which tracks a variety of demographic and economic indicators that directly and indirectly influence our housing market here in Metro Vancouver. Our goal is to provide our community with a basis for evaluating the trajectory of the factors that collectively define the context of the real estate market.Our rennie intelligence team comprises our in-house demographer, senior economist, and market analysts. Together, they empower individuals, organizations, and institutions with data-driven market insight and analysis. Experts in urban land economics, community planning, shifting demographics, and real estate trends, their strategic research supports a comprehensive advisory service offering and forms the basis of frequent reports and public presentations. Their thoughtful and objective approach truly embodies the core values of rennie.
Get the data
Receive insights, analysis, and perspective from our rennie intelligence team on the Lower Mainland's real estate market.