Danny Chow began his real estate career at rennie in 1995, while Salina Kai started hers in 1998 as Bob Rennie's receptionist. A number of years later, in 2007, the two became working partners in an effort to expand their growing businesses. Now 12 years later,
Danny
and
Salina
have established themselves as a powerhouse partnership, are consistently
top performers in the industry
, and are cherished
rennie leaders
and
mentors to their peers
. Here they share their wisdom and experiences in a career that has seen the housing market through many twists and turns, yet Danny and Salina have sustained and grown their business year after year.
On a partnership based on shared values
Salina: I don't have enough nice things to say about my business partner, Danny. He is one of the hardest working people I know and we have each other's back. We share a lot of the same morals in approaching our clients but more importantly we share similar values in how we approach our personal lives. Outside of work we are best of friends and our families and kids love each other. I'm really lucky that Danny approached me years ago to partner up. We have never looked back.
Danny: With any type of business, you reach a point where you consider expanding by finding the right partner. For me, that moment was 12 years ago, and that person was Salina. We gel in a very compatible way in terms of personality, work ethics, beliefs, and morals. I value trust immensely and we share a level of trust akin to family. Sometimes with partnerships, you can fear competing over clients. But that never occurs between Sal and I. We are a source of support for each other, not competition.
On constant team work
Salina: Danny and I have different styles of approaching a listing or sale but together the systems that we have spent years putting together ultimately benefit our clients. We also have a team that is second to none and we communicate 24/7 with each other.  
On adapting to the market
Danny: As a Realtor, you have to change with the market. It's imperative to keep up with the latest information and be in the loop of new policies and market trends. Housing market news spreads fast-- especially with social media-- so you have to keep up to be ahead of your clients, to be the more knowledgeable one, to provide service opportunities. 
On a personal mantra
Salina: My personal mantra, "you are always replaceable," keeps me consistently focused, respectful, and dedicated to the needs of my clients. As well it reminds me to appreciate all the people involved in making a real estate transaction happen at all times.
On connecting with clients
Danny: Before social media, I use to wake up at 6 am to catch the morning news to give me a download of what's happening locally and globally. I'd use these daily tidbits to connect with all the people I'd see that day, from clients to partners, to colleagues, etc. It was a nice way to connect before diving into business. 
On focusing on relationships
Danny: I look at real estate not as a sales job but more of a relationship-building job. It's about people, it's about relationships; 95% of our business comes from referrals and that makes our job easier. But this is a result of focusing on relationships, not sales.
On early lessons learned
Danny: In 1997, I was starting out in sales on a project site where I met a Korean woman. It turns out that this woman did not have any real estate knowledge and she also didn't drive. When we had our first appointment, I drove out far to her house in order to make the meeting as easy and convenient as possible for her. I also prepared a spreadsheet detailing potential mortgage payments, rental rates, and a competitive analysis of similar products. She ended up buying three properties in one day. From that deal, I learned that if your client approach includes top-notch service and in-depth knowledge, then you will differentiate yourself among other Realtors. Your client approach should always include asking yourself what reasons you are giving your clients to use your service. With over 15,000 other Realtors in the business, you need to stand out from the rest!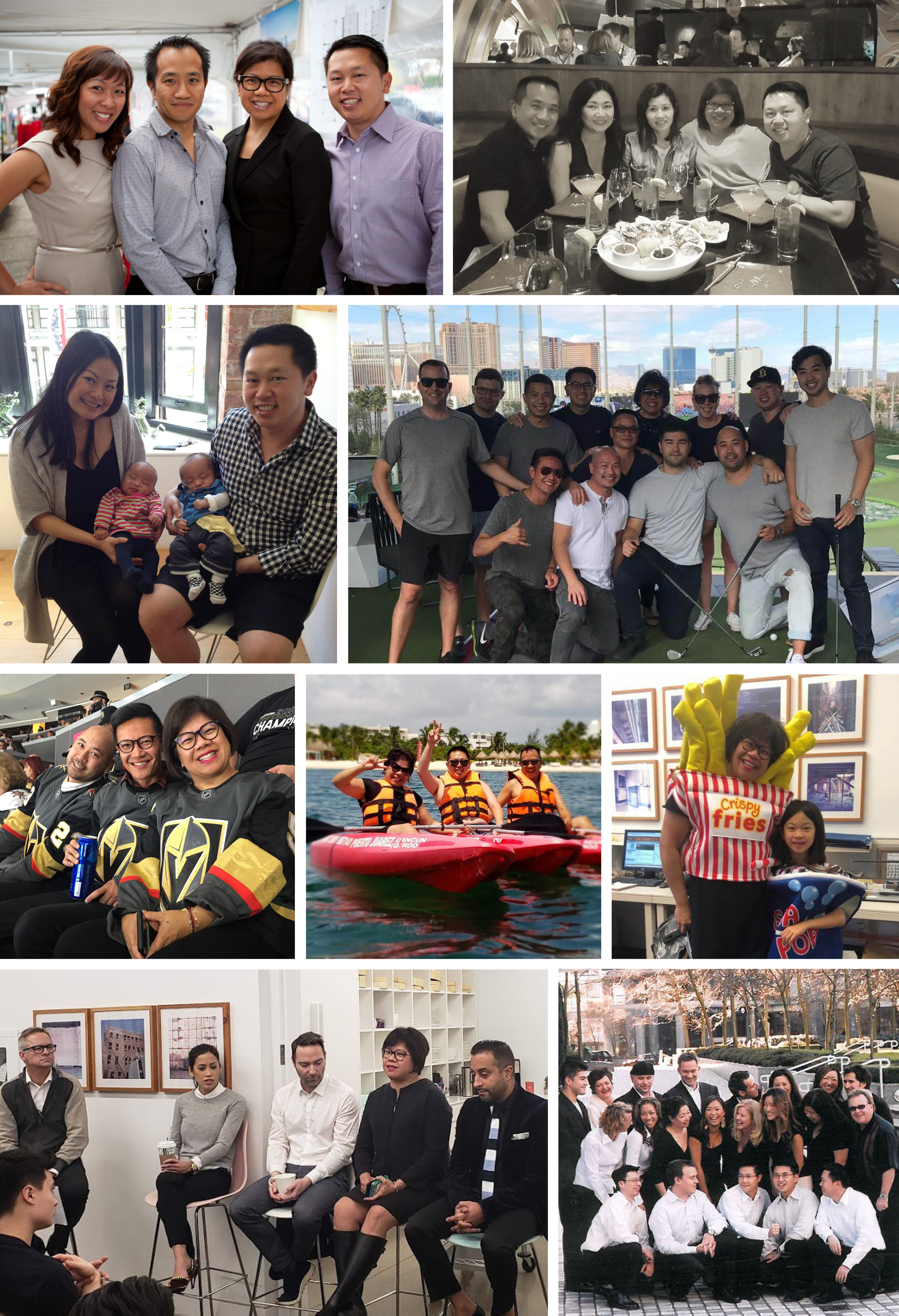 On the best feeling 

Salina: The most memorable listings are the ones we get when other Realtors ask us to list their home or investment properties because it's one of the highest compliments!

On the biggest realtor perk
Salina: Being able to see how well your clients have done with real estate. Sometimes they start out with a single condo and now they have a portfolio of properties. It's so satisfying to know you were a little part of their story.  Even when it was a negative event in your client's life that has led to the meeting, you know you were there to make the real estate transaction happen as seamless as possible.
On a bad client experience
Salina: Most of the times things go smoothly but when it doesn't you really have to be good at putting out fires.  I remember this one time when we were selling a huge penthouse and when keys were due to be handed over on possession date, the seller's moving truck had just arrived, and not much of their furniture or possessions were even packed. Ultimately, Danny and I packed the seller's house up so that our clients could move in.
On a being on-call 24/7
Danny: Being a Realtor is a 24-hour job. We're always available to our clients; especially if you work with clients who are from out of town. There is not necessarily any dedicated off time because great customer service often necessitates replying immediately. I recently traveled to Vietnam and I was answering emails at 2am due to the time difference.
On next career goals
Danny: I've worked all my life and I've been with rennie since 1995. I enjoy what I do and I still look forward to meeting my clients. But my goal is to spend more time with my wife and 5-year-old twins. I strive to keep my commitment to my kids including the little things like going to the arcade and movies. Their favourite game is Sonic the Hedgehog. With Salina being such an involved business partner, I've been able to carve out more time to do this already, something my own parents didn't have the opportunity to do.
A special thank you to Danny and Salina for sharing their real estate insight and stories with us. Our full-service brokerage will help you build your career through a supportive and collaborative environment with consistent mentorship, and the opportunity to align yourself with our reputation for real estate excellence. Learn more here.