It's no secret that Vancouver is one of the most expensive cities in the world. With increasing prices in Vancouver proper, the trend of young families moving out to the suburbs continues with an appealing value proposition of more space for less money. But which suburb should you choose?

According to the latest 2016 Census reports, the fastest growing city in the Lower Mainland is Langley with the top population increase at 12.6%, from 104,177 in 2011 to 117,285 in 2016. Runners up in population growth are Surrey, Coquitlam, North Vancouver, and Maple Ridge. The national Census report examines Canada's population every five years and offers a wide range of analysis, data, reference and geographical information according to topics that paint a portrait of Canada and its population. It measures key performance indicators such as population, population change, population density and private dwellings.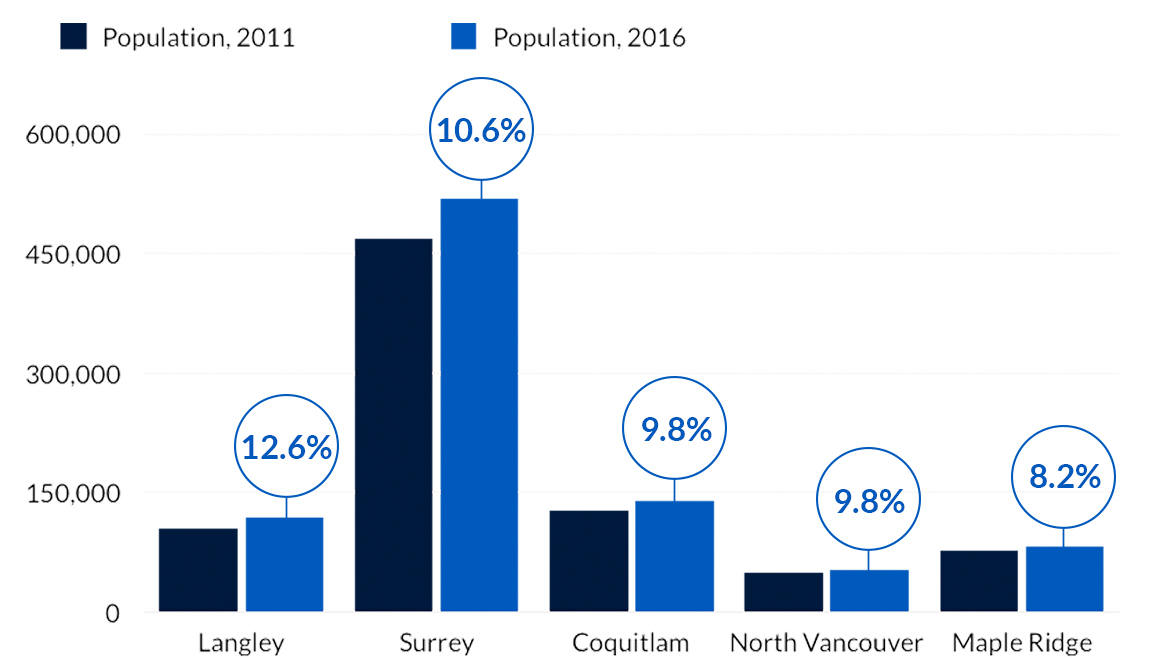 Measured by population growth, the top 5 of the fastest growing cities in the Lower Mainland are:

Langley
Population 117,285 (up 12.6% from 2011)

Surrey
Population 517,887 (up 10.6% from 2011)

Coquitlam
Population 139,284 (up 9.8% from 2011)

North Vancouver
Population 52,898 (up 9.8% from 2011) 

Maple Ridge
Population  82,256 (up 8.2% from 2011)

Looking for a new home in Langley, Surrey, Coquitlam, North Vancouver or Maple Ridge? Our rennie advisors specialize in every neighbourhood across the Lower Mainland and can help you find the home best suited to you.

*All information provided is deemed reliable, but is not guaranteed and should be independently verified. E&OE.



Get the data
Receive insights, analysis, and perspective from our rennie intelligence team on the Lower Mainland's real estate market.