Meet Derek Kai, Advisor at rennie.

 Why do you work with rennie?
Aside from being part of one of the largest real estate marketing companies in Vancouver, having Bob to look up to, having our own dedicated in-house marketing team and constant innovation within our company, I work here because of the people. I really believe they are my second family. My first experience with rennie was a phone campaign for Kingswood Shaughnessy back in 2001. Since then, I've grown with the company from our townhouse office on Hornby to our beautiful home inside the Wing Sang building in Chinatown. I also work with a fantastic team including my favourite sister Salina (who I always look up to at work), work wife Susan (who is more like a Sister), Danny (Salina's work husband and pro sports predictor), Amey (Mongolie Grill partner-in-crime), Liz (who makes our lives infinitely more organized) and Peter (our newest member eager to learn).

What makes you passionate about real estate?
The constantly changing environment the job gives us. Every day is different but, in the end, I'm helping my clients buy and sell their homes. The smiles on the face of my clients when we find their dream home or sell their home above what they expected constantly makes me think I have the best job in the world.

What do you most value in your friends?
Someone who cheers me up and puts a smile on my face, who is honest, who always has my back and that I can trust.

What do you most value in your colleagues?
Mostly the same as what I value in my friends. I value colleagues who don't consider me as their competition, but rather as their teammate and friend.

What are the biggest time wasters in your life? What do you do to manage them?
Candy Crush (Level 1910). Being competitive, I first started competing on Candy Crush with my business partner / work wife Susan. As I started getting way ahead of her, she gave up (always pointing out that she has the higher score on Fruit Ninja, which for the life of me I can't beat). I stopped playing until I found out my mom played, too, and was ahead of me. That's really when Candy Crush became my biggest time waster. The game manages me by limiting the lives I get and me refusing to pay money to play more (until I move the clock up on my iPad to get more lives - pretty sure it's almost New Year's 2017, according to my iPad). UPDATE: I'm now on Level 1921. Beat that, Mom! (She's on Level 1777.)

What are the top two pieces of advice you would give to someone starting their real estate career? 
The first is stay positive. The market is ever changing, people around us are challenging at times, but no one said it's easy! In all fairness, it is a job (albeit a great one). The second is set your goals. Goals give you a long-term vision, which motivates you in the short term.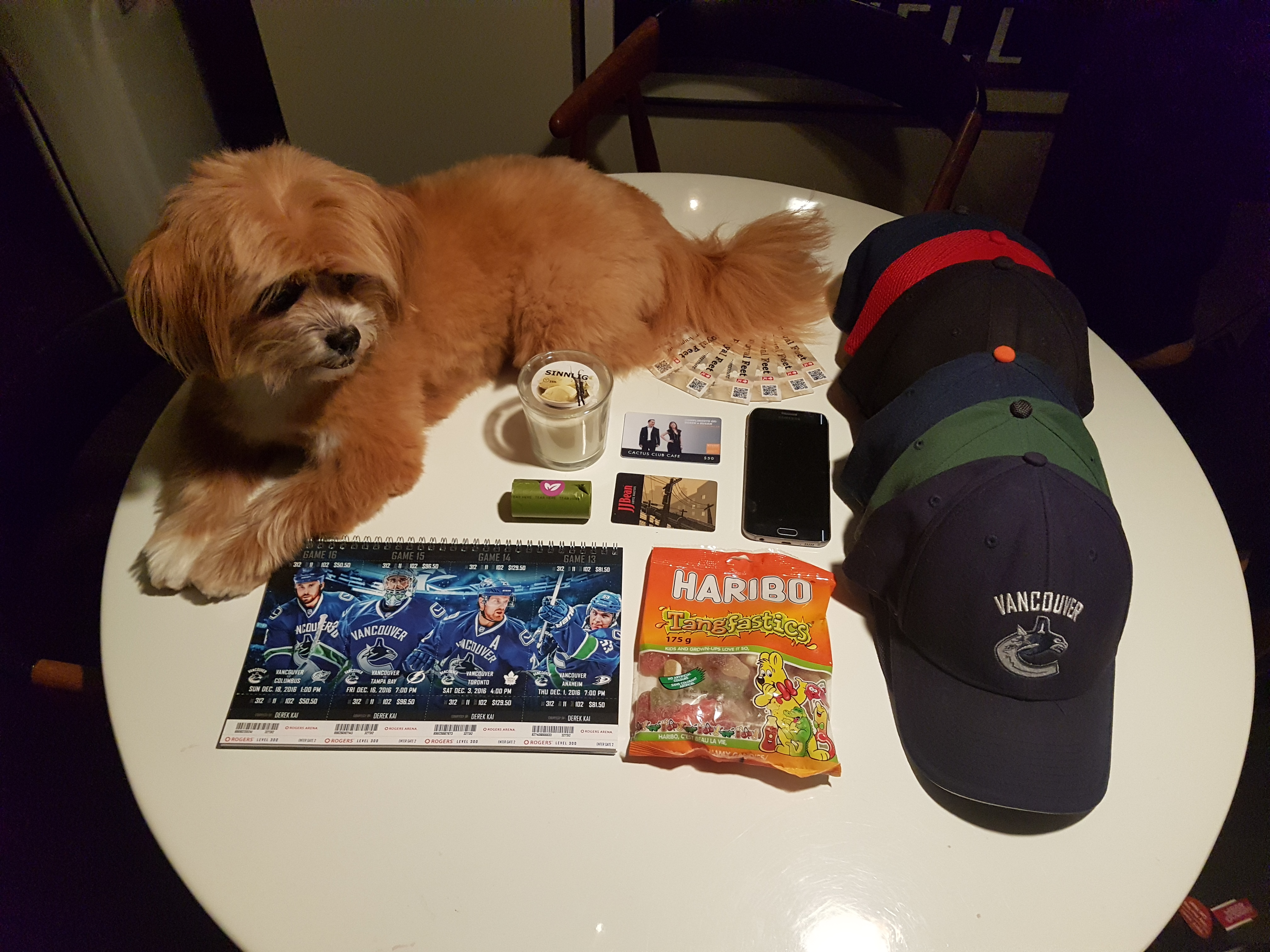 Tell us about your everyday essentials.
My Phone. I am addicted to my phone. I answer most emails within seconds regardless of what time and get annoyed when I send an email and don't get an instant response. Working on my patience! Lola - man's best friend. Lavender poop bags - lavender has a whole new meaning these days. JJ Bean gift card - the daily medium rail town in a large. You'll always find lots of empty cups in my car. Personalized Cactus Club gift card - butternut squash ravioli, anyone? Canucks season tickets and random sports hats - true fan during the good times and bad. For the hats, it depends on my football pool and where my bets are. Haribo Tangfastics - everyone needs candy sometimes. Royal Feet massages - nothing is better than ending the night with a glass of wine (sometimes in a mason jar or Tim Hortons cup) while having a foot massage, and then heading over to Joey's for their fresh baked apple pie with more wine. Ikea vanilla candle - so my place doesn't smell like someone else's house I know.
Thanks Derek!