Confidence among consumers, especially in Metro Vancouver, is driving accelerated retail sales activity. Expect this trend to continue.
The extent to which everyday consumers (that would be you and me) are spending their money on everyday things like leggings, lemons, lattes, and lavender oil provides a pretty clear window into the mood of said consumers. If they—er, we—are spending more, then we probably feel pretty good about our financial situation, including our job, our income, and our savings and investments—even if the subjectivity of this feeling is detached from the objective measures of such things. Conversely, when consumers pull back on spending, then look out: that's usually a sign that an economic slowdown is in the works, if not fully underway.
With this in mind, the latest data on retail sales in Canada, British Columbia, and Metro Vancouver are encouraging. Before considering the more recent numbers though, let's start with some (surprising) context: between June 2019 and June 2020, total monthly retail spending in Canada rose—yes, rose—by 3.4%. This despite our economy being 4 months deep into the Great Suppression at the midway point of last year.
In comparison, national monthly retail spending rose by 6.2% year-over-year in June 2021.
More locally, the increases in spending are more dramatic. For example, in BC as a whole, the 2.6% growth in spending between June 2019 and June 2020 was trounced by the 12.6% growth over the most recent 12 months. Here in Metro Vancouver, the past two years have been like night and day for retailers: compared to a paltry 1.1% increase in spending from June 2019 to June 2020, retail spending in this region surged by 18.9% between June 2020 and June 2021.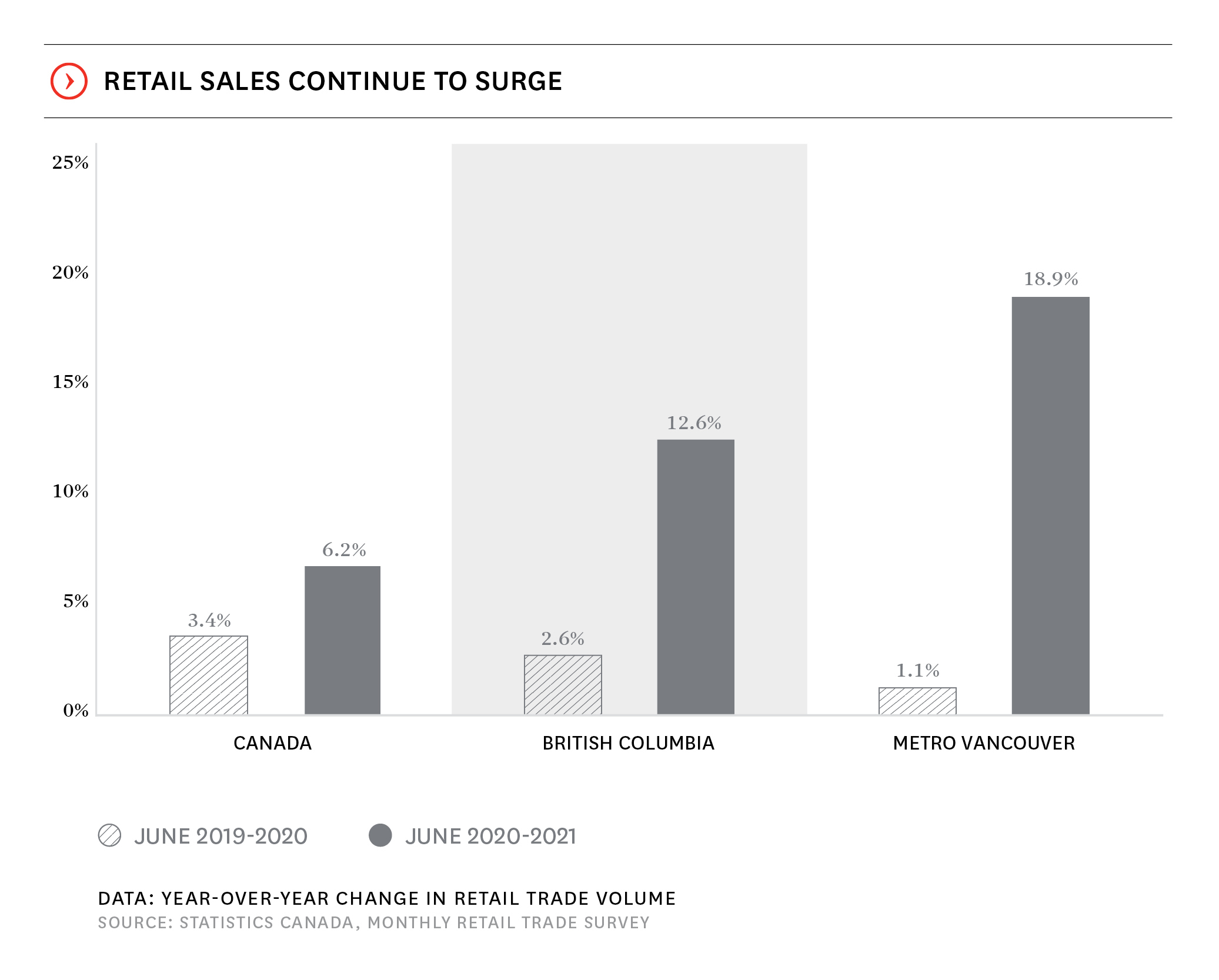 Is this growth sustainable? In short, no. But for now it's contributing to an improving economy, and it hints that the huge buildup in household savings over the past year (discussed in the next section) could continue to drive spending in the coming years.
Read the full rennie landscape - Fall 2021
here
. 
Twice a year, rennie intelligence produces the rennie landscape, that tracks a variety of demographic and economic indicators that directly and indirectly influence our housing market here in Metro Vancouver. Our goal is to provide our community with a basis for evaluating the trajectory of the factors that collectively define the context for the real estate market.

Get the data
Receive insights, analysis, and perspective from our rennie intelligence team on the Lower Mainland's real estate market.