Kenneth Chan
Jul 02, 2019 4:28 pm


Metro Vancouver's housing affordability metrics saw some slight improvements, although analysts are still describing conditions as "dreadful."

At the same time, it appears that the negative resale market conditions responsible for the recent small boost in affordability have finally reached the "cyclical bottom."
 
RBC Economic Research's June report indicates the share of household income required to cover home ownership costs in the region reached 82% in the first quarter of 2019 — down 1.9% from the previous quarter, and a drop of 5.1% from a year ago.

"It's been a rough couple of years for the Vancouver-area market but it looks like resale activity finally ended its lengthy and steep slide this spring," reads the report.

"Not that we expect a sharp snapback anytime soon. Affordability remains in crisis and this will continue to weigh heavily on homebuyer demand for the foreseeable future. Progress on addressing this crisis has been modest to date—yet notable."

These findings are based on a 25% downpayment, and a 25-year mortgage loan at a five-year fixed rate.

It means only roughly 13% of families — one in eight families — in Metro Vancouver are earning the income necessary to manage home ownership costs. In contrast, both Greater Toronto and Victoria have a one-in-five families ratio.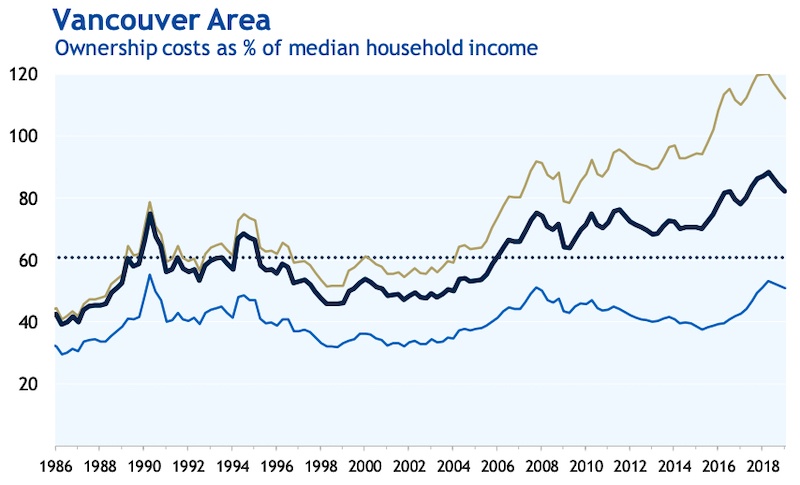 RBC Housing Affordability, June 2019 report


However, for families in Metro Vancouver, a condominium apartment provides greater affordability, with one quarter able to cover condo ownership costs.

"Policy-makers will be encouraged by the fact that some progress is being made at repairing home ownership affordability in Canada. After all, tackling affordability crises in Vancouver and Toronto is one of their top priorities," continued the report.

"Policy-engineered market downturns have succeeded at reversing some of the earlier massive affordability losses in Vancouver and stabilizing the situation in Toronto—though neither market is close to levels that ordinary Canadian households can afford."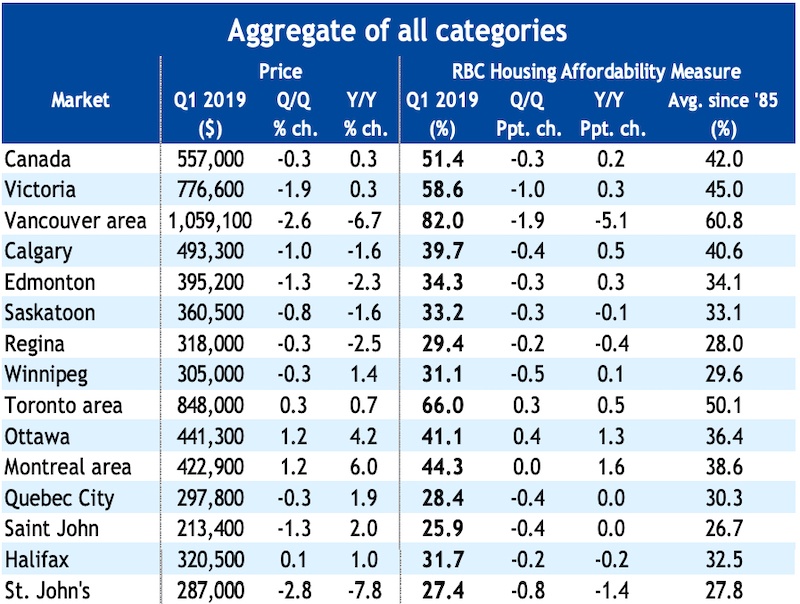 RBC Housing Affordability, June 2019 report

Kenneth Chan
Kenneth is the Urbanized Western Canada Editor of Daily Hive. He covers everything from local architecture and urban issues to design, economic development, and more. He has worked in various roles in the company since joining in 2012. Got a story idea? Email Kenneth at kenneth@dailyhive.com@iamkennethchan