While the Metro Vancouver housing market has long grappled with affordability challenges, the reality is that the majority of rental households in the region do not live in "acceptable" conditions.


As part of its September 2022 census release, Statistics Canada shared data on housing suitability (which we discussed
here
), affordability, and adequacy. Together, these three elements form the basis for the Canada Mortgage and Housing Corporation's (CMHC) definition of
acceptable housing
. More specifically, housing is considered to be "
acceptable
" only when a household meets all of the following three criteria: it spends less than 30% of its gross income on shelter costs (affordable); the dwelling has an appropriate number of bedrooms for the size and composition of the household that occupies it (suitable); and the dwelling does not require major repairs (adequate).
Nationally
, and per these CMHC criteria, 71% of all households live in acceptable conditions—which is also to say that three out of every 10 households live in unacceptable conditions. Notably, homeowners fare better than renters, with 79% of owners living in acceptable conditions versus 55% of renters. Here in
Metro Vancouver
, just 61% of households are considered to be in acceptable housing, with 69% of owners and just 49% of renters meeting the criteria.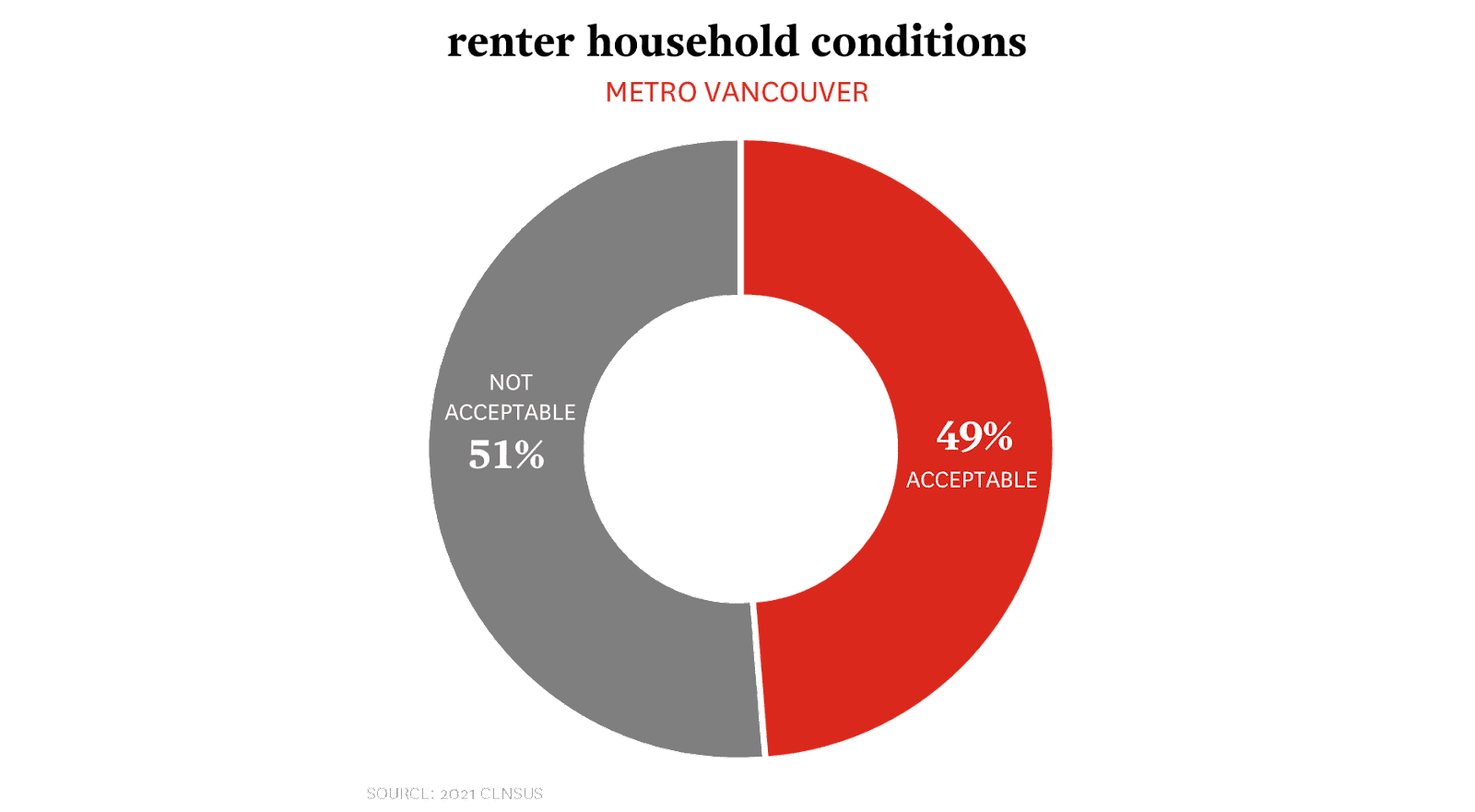 Among the three contributors to the lack of housing acceptability in Metro Vancouver for renters, it is the affordability criterion that plays the biggest role, accounting for 64% of all unacceptable conditions for renters in the region (129,940 households). A lack of suitability is the next highest contributor to unacceptable conditions, at 18% (36,020 households), followed by inadequacy, at 6% (13,125 households). The remaining 12% of renter households in unacceptable conditions fail to meet two or more of the acceptability criteria, including 780 households that do not meet any of the three.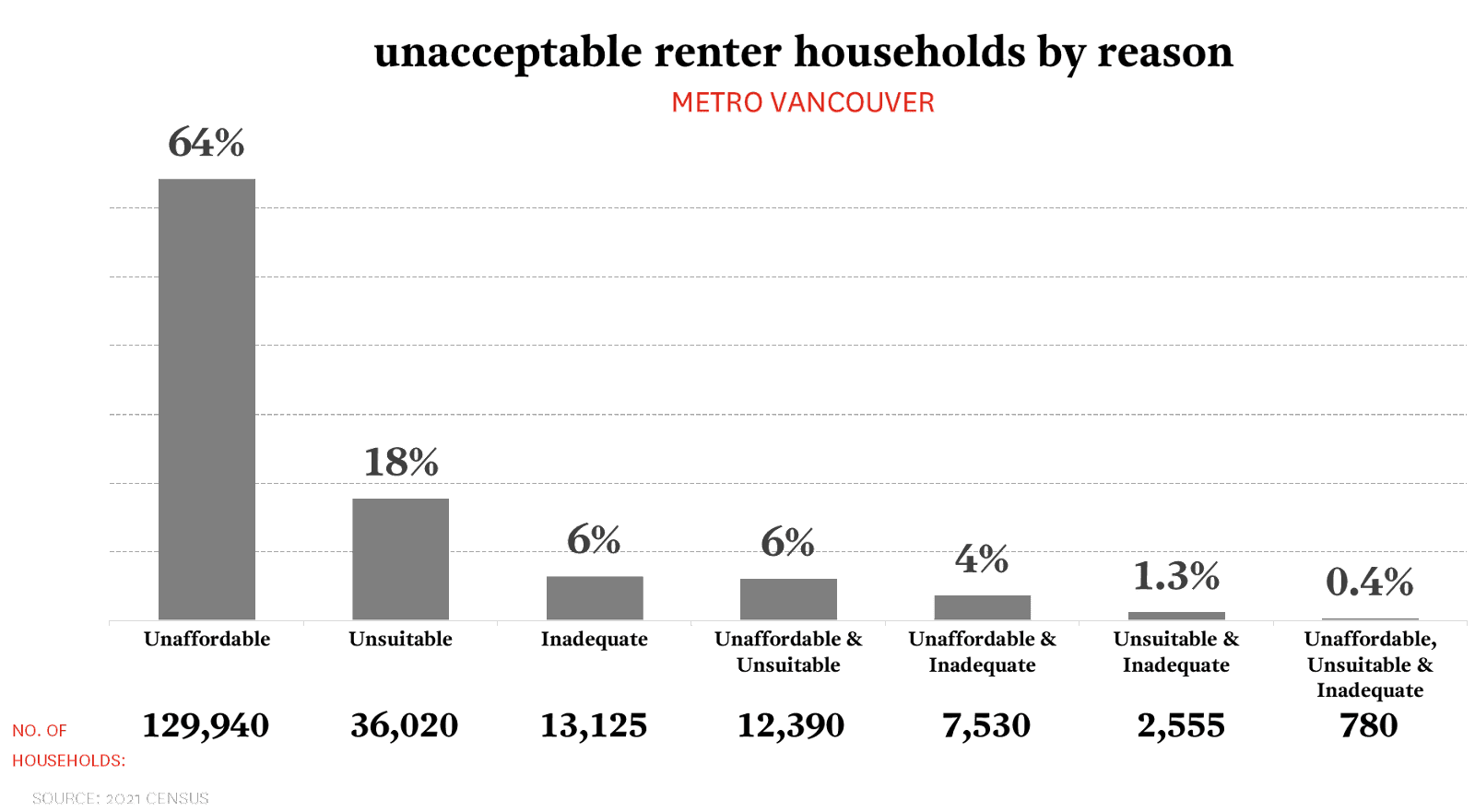 The lack of acceptable housing for the local renter population is, arguably, a reflection of the lack of requisite supply. As we've previously discussed,
the region's stock of purpose-built rental housing has not kept pace with population growth
, which has clearly translated to high and rising rental rates alongside very low vacancy rates. This new Census data brings additional perspective to the experience of renters in Metro Vancouver, with most "choosing" housing options that do not fully meet their needs not only in terms of affordability but also as they relate to suitability and adequacy. 
With Metro Vancouver's population continuing to grow at a historically-elevated pace— primarily through in-migration, which is closely associated with rental housing demand—this issue is unlikely to resolve itself anytime soon. This underscores the requirement for not only a greater supply of rental homes throughout the region but also the right type of rental homes—that is, ones that better suit renters' needs.
Our rennie intelligence team comprises our in-house demographer, senior economist, and market analysts. Together, they empower individuals, organizations, and institutions with data-driven market insight and analysis. Experts in urban land economics, community planning, shifting demographics, and real estate trends, their strategic research supports a comprehensive advisory service offering and forms the basis of frequent reports and public presentations. Their thoughtful and objective approach truly embodies the core values of rennie.

Get the data
Receive insights, analysis, and perspective from our rennie intelligence team on the Lower Mainland's real estate market.