Sales activity in the Vancouver Region continued to slow in May, leading to a continued expansion of inventory. And for the first time since May 2020, conditions in the region's detached home market are balanced.

Sales
Total MLS sales in the Vancouver Region in May were 4,249, which was down by 12% versus April, exceeding the typical seasonal decline (of 6% in this case) for a second consecutive month. Daily May sales averaged 202, which were 15% lower than April's 23 sales a day. (As a side note, last month's sales were also down by 40% from 2021's second-most-ever-May count.)

On a month-to-month basis, sales across all home types declined from April, with detached home transactions falling by 18%, followed by townhomes and condos at 10% and 8%, respectively. Detached home sales (1,289) and townhome sales (813) were the lowest such counts since early-2020. Condo sales, at 2,058, were the lowest since January 2021.

On a year-over-year basis, sales were–unsurprisingly— also lower across all home types, with detached sales lower by 53%, townhomes by 45%, and condos by 27%. As a final comparison, May's 2022 total sales were 18% lower than the past 10-year May average.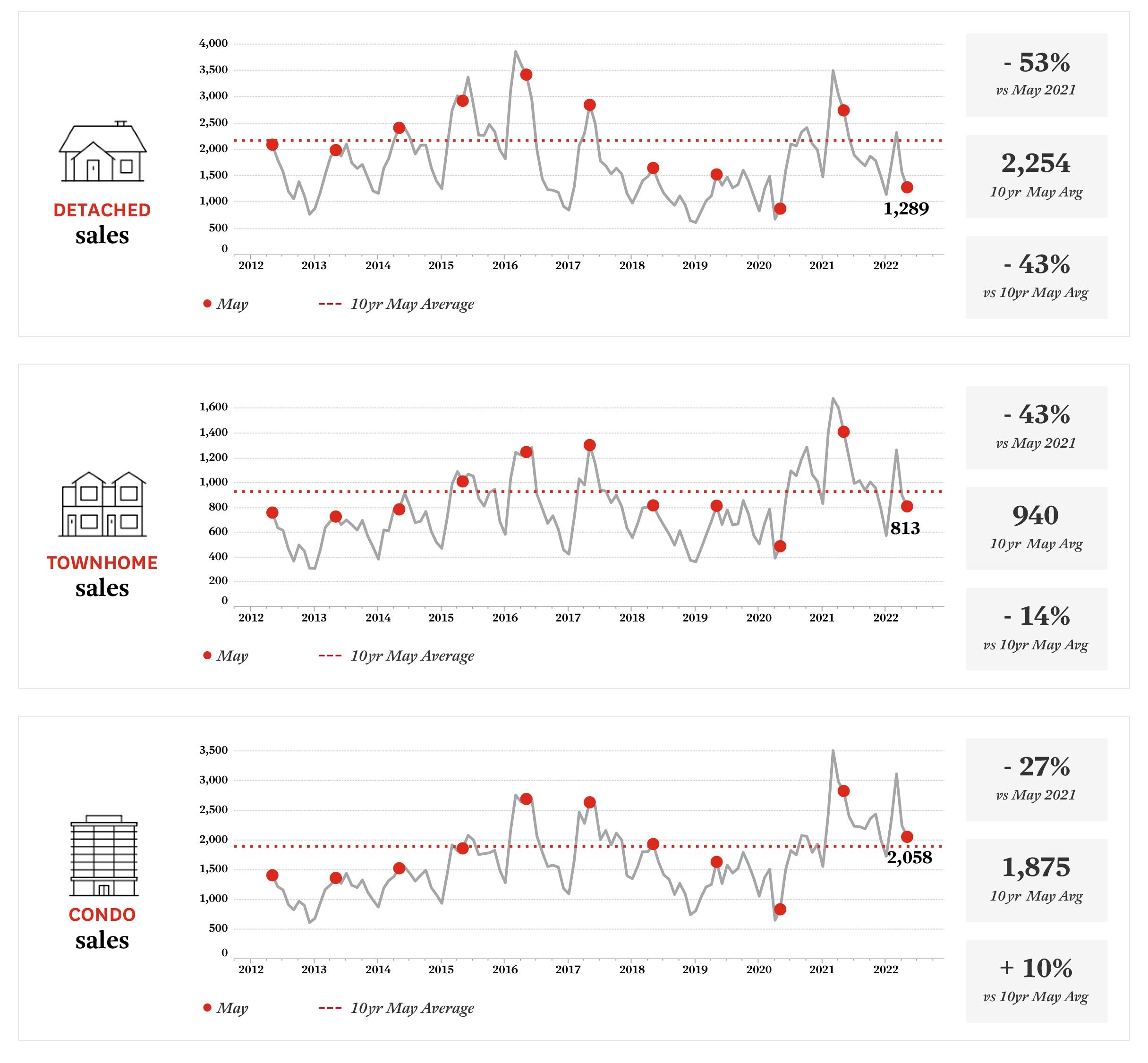 Total Listings
Total inventory, as well as that for each home type, grew again in May: compared to April, last month's 15,486 listings were up by 15%. Notably, May's MLS inventory was still 19% below the past-decade May average despite 5 consecutive months of expansion.

On a month-over-month basis, townhome supply in the Vancouver Region rose by 18%, followed by that of condos and detached homes, at 15% and 14%, respectively. Compared to May 2021, listings were still lower for condos (by 10%) and detached homes (by 5%); in contrast, townhome listings were higher by 18%.M

May's total sales-to-listings ratios declined between April and May for all home types, to 18%, 34%, and 38% for detached homes, townhomes, and condos, respectively. As such, while conditions in the townhome and condo segments continue to favour sellers, those in the detached home market are now balanced for the first time since May 2020.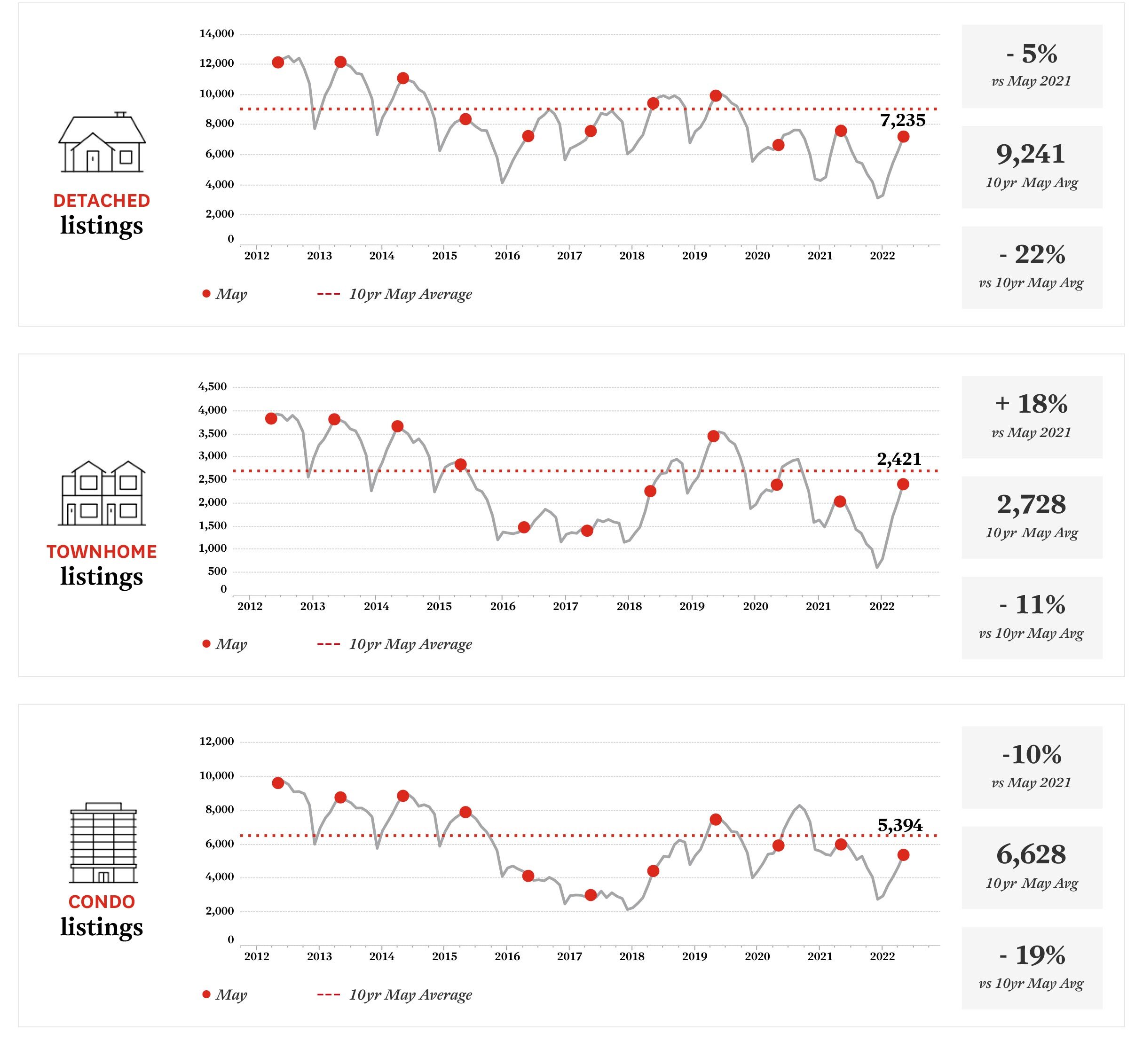 Median Prices
Median MLS sold prices in both the Greater Vancouver and Fraser Valley board areas declined in May (by 4% overall, on average, between the two board areas).

Both the Greater Vancouver and the Fraser Valley board area experienced month-over-month declines of similar magnitudes, with median detached prices dipping by 5%, condos by 3%, and townhomes by between 5-6%.

On a year-over-year basis, Greater Vancouver's detached home median prices were 17% higher in May; in the Fraser Valley, they were up 15%. Again compared to one year ago, median townhome and condo prices rose at a faster pace in the Fraser Valley (at 21% and 23%, respectively) than in Greater Vancouver (which tallied increases of 15% and 13% for townhomes and condos, respectively).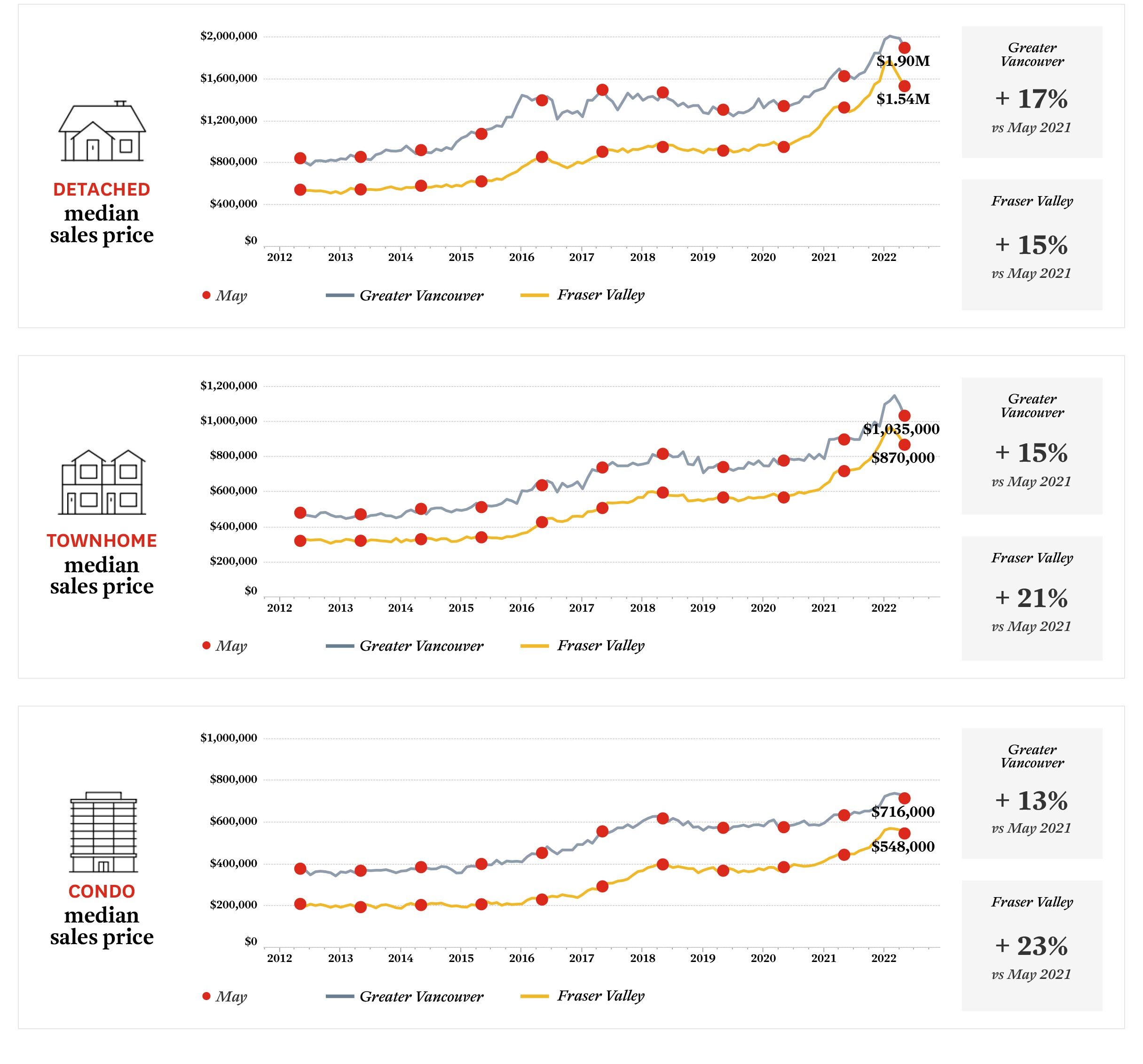 Our rennie intelligence team comprises our in-house demographer, senior economist, and market analysts. Together, they empower individuals, organizations, and institutions with data-driven market insight and analysis. Experts in urban land economics, community planning, shifting demographics, and real estate trends, their strategic research supports a comprehensive advisory service offering and forms the basis of frequent reports and public presentations. Their thoughtful and objective approach truly embodies the core values of rennie.
Get the data
Receive insights, analysis, and perspective from our rennie intelligence team on the Lower Mainland's real estate market.