Meet Jane Chu, Advisor at rennie. 

Why do you work with rennie? 
I work for rennie because it is filled with good-hearted people, and the company culture is very family-like. Not to mention, the rennie office is a functional but ultra-creative space – three-quarters of it is an art gallery and one-quarter office space. As an avid art, architecture and real estate lover, I feel like rennie is a company that is very fitting to my personality.

What makes you passionate about real estate?
All of my favourite things coming together in real estate: people, art and architecture. My number one passion is people and finding out what their dreams and visions are, and how I can help them make that a reality. Usually dreams require a physical space in order to manifest into reality. Whether you want to build a family, host events, start a non profit organization or a business, spaces are needed in order to make that happen.

What do you value most in your friends?
I value my friends and community's awareness of others needs, their passions (which become contagious), their honesty, purity of heart, their encouragement but also ability to highlight blind spots, growing together with the freedom to make mistakes, laughing together and, the highest of all, their unconditional love.

What do you most value in your colleagues?
I value how fun and honest they are and how everyone brings something so unique and different to the table. We all have different strengths and weaknesses, and we work together as a team to succeed.

What has been the most significant change that you've noticed in Vancouver within the last few years when it comes to real estate?
I've noticed an increase in architectural innovation and refinement in design. Developers and home owners are craving for unique properties, and we are now seeing developments that are shaping the Vancouver skyline and impacting the global market.

Name one or two of your favourite hidden gems.
I love going to the Truffles cafe hidden in VanDusen Garden. It's almost always empty and mostly locals go there. They have a wonderful patio during summer and delicious food. I also love Prohibition located inside the Hotel Georgia. It's a newer lounge and has a great atmosphere perfect for catching up with friends.

What is it about this city that makes you want to live here rather than somewhere else?
Our city is so unique from other cities. On a macro perspective, I've noticed there is a lot more freedom of speech and safety compared to other major cities. Vancouverites are blessed with vast opportunities, including access to education and universal healthcare. There is also a general peace (that sometimes I take for granted) that many other cities simply do not have.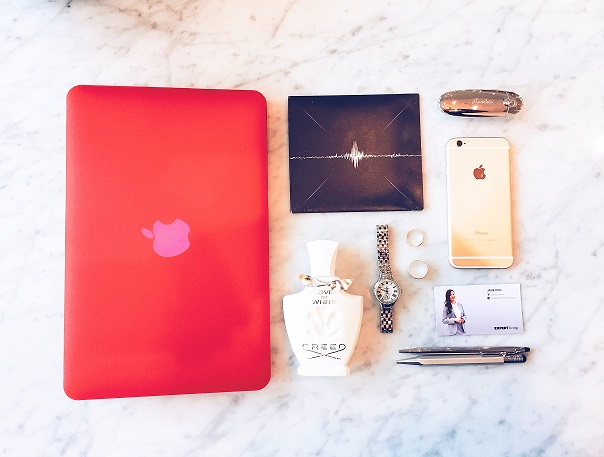 Tell us about your everyday essentials.
Here are my everyday essentials: My Macbook Air and iPhone keep me operating at optimal speed and connected with clients, the global community, friends and family. Empowering music is also a must-have. As soon as I get up or go to bed, I choose to start my day right with uplifting music. Right now, I'm obsessed with the We Will Not Be Shaken album from Bethel. Lipstick and fragrance are essentials to any working woman. On most days, I wear meaningful jewellery, including my watch which commemorates the successful sell0out of a high-rise development and my two rings, which mark my baptism and first real estate sale. Business cards to connect. Nice pens to sign those deals!

Thanks Jane!