Meet rennie advisor Vesna Todic.

Why do you work with rennie?
Before rennie, I was with 3 different brokerages and rennie is a local, 5-star boutique real estate agency. I love the team, the high standard, branding, efficiency, and professionalism of the entire organization.

What makes you passionate about real estate?
It started off with a love for architecture and design, then a passion for helping people sell or acquire their dream. Real estate is never boring, almost every transaction holds something new, I'm always being challenged and learning-which I love.

What do you most value in your friends?
The ones that are closest to me are open, honest, love to laugh, talk and drink wine.

What do you most value in your colleagues?
Honesty, trust, and willingness to help and share with one another.

What are the biggest time wasters in your life? What do you do to manage them?
Instagram and FB. Shh, don't tell my kids. I now try and look at them during set times such as morning tea, waiting around or in the evening.

Name one or two of your favourite gems (ie. A place, thing, etc.)
L'uffico an Italian bistro in Kits. The food is fresh, mostly made in-house, and the lemon cream dessert is to die for. My other favourite thing is my Nexus card, it has saved me hours and hours at various border crossings.

Why do you love living in Vancouver?
It's a gorgeous resort city. The air is fresh, our vegetation is green, and we have amazing biking/hiking trails, food, and cafes,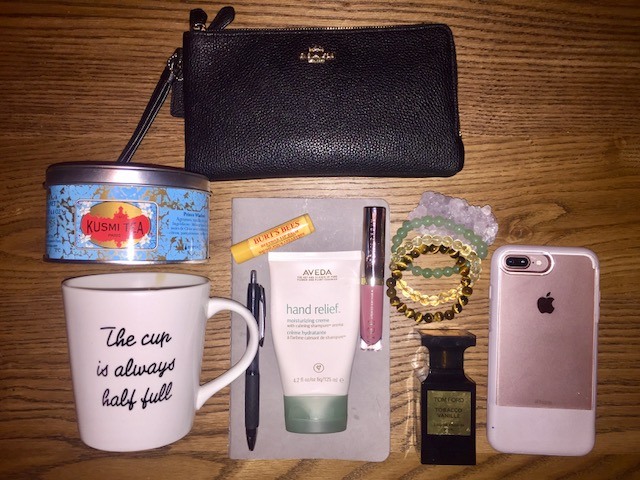 Tell us about your everyday essentials.
These are my absolute favourite things that I use every day. I love the practicality of my Coach wristlet, it's big enough to hold my iPhone 7, cards, money and sometimes keys. It serves as a wallet or little purse. I'm a tea drinker and this Kusmi tea is an Earl Grey blend from Paris. I start my day sipping cups from my favourite large mug. I love crystals and you'll always find one on me or in my purse. I wear different ones based on what I'm needing that day, week or month. I've tried hundreds of different lip moisturizers and nothing beats Burt's Bee's peppermint lip balm. It's the "bomb balm". My pen and Moleskin notepad keep me organized and Tom Ford perfume keeps me smelling good. And last my iPhone....it's another organ.

Thanks Vesna!