Meet Fraser Rowland, new member of our growing Advisor team.

What inspired you to join rennie?
I was drawn to rennie because of its presale and resale opportunities, as well as the environment that it offers. At rennie we have a very team-oriented attitude, offering many team building activities and support around the office. This, accompanied by rennie's industry-leading real estate marketing made it an easy choice.

What got you into the real estate industry?
I grew up in a real estate family. As a kid, I would go to sites and open houses, so it felt like a natural progression for me to explore real estate after finishing school and working in the service industry for a few years. As my interest in real estate grew and after weighing out different avenues and opportunities, I decided to become an Advisor and Sales Coordinator at rennie and I couldn't be happier.

What do you most look forward to about coming into the rennie office?
Talking to the team and enjoying the people at rennie. The in-house baker and espresso machine are a close second.

What qualities do you most value in the people you surround yourself with?
I value honesty, curiosity, and fun. Life is so much more exciting when you surround yourself with people who you admire and enjoy being around.

What's one thing most people don't know about you?
I grew up helping my mother and grandmother cook family dinners, so I am a decent cook. In my family, the cooks never had to clean, so that was all the incentive I needed.

How do you start your day?
If I am organized, I begin my day with a bowl of overnight oats and a cup of coffee, followed by a workout or run if time permits. I also catch last night's sports highlights before heading to the rennie office.

What makes a home feel like a home?
Home is a full fridge, a good record playing, and watching a Canucks game (hopefully a win too).

What's the most memorable place you have travelled to?
In 2015, I travelled to Turkey with my family. It was an amazing experience immersing myself in a different culture, especially through food. The flavours and aroma that surround you as you walk down the street are intoxicating. We were fortunate enough to go on a short cruise through the Aegean Sea which is something I will never forget. The water was crystal clear and like anything else I had ever experienced. 

What's the first spot you go to after coming home from a trip abroad?
Besides my apartment or my parent's place for some home cooking, it would have to be Sal y Limon. It's this little Mexican restaurant on Fraser and Kingsway serving cheap, delicious food with a family atmosphere. It's a few blocks from my apartment so I'm there a few times a week.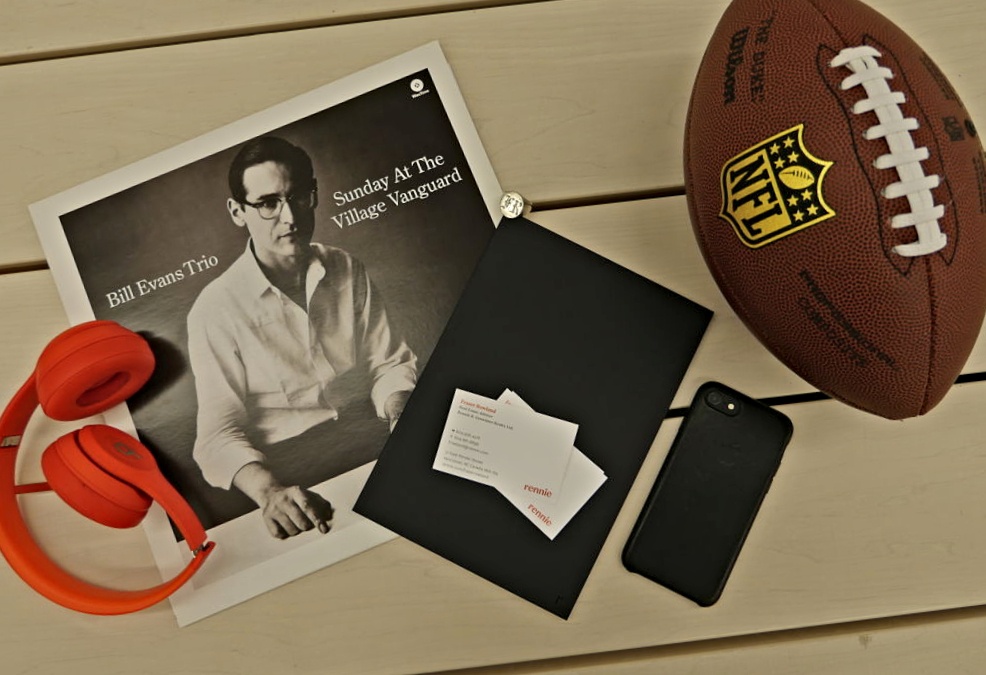 Tell us about your everyday essentials.
I'm a huge sports fan, spanning everything from NFL to golf. With the NFL season right around the corner, my friends and I always have a ball in the car just in case. Music is very important to me and I am constantly listening to it. Bill Evans is one of my favourite Jazz musicians, and Live at the Village Vanguard is a tremendous record. There is something about playing a record and cooking a meal after a long day that I find therapeutic and relaxing. Finally, I love accessories, especially jewelry. My parents gave me this signet ring a few years ago, and I feel underdressed without it.

Thank you, Fraser! Welcome to #teamrennie.