Meet Joanne Hoekstra, rennie advisor.

Why do you work with rennie?
The rennie brand drew me into the company. To me, it's smart, edgy, modern and fun. It's incredible to have the opportunity to start my business with a brand like rennie to lead the way.

What makes you passionate about real estate?
Growing up, every other week my mom would come home from the library with stacks of architecture, design and decorating magazines. I would pour through the pages analyzing and critiquing every room and home design. I developed a love for real estate and have been personally investing for many years. Now I do what I love every day.

What do you value most in your friends?
Sincerity, a kind heart and a drive to always give the very best of themselves.

What do you most value in your colleagues?
Honesty and a strong work ethic.

What has been the most significant change that you've noticed in Vancouver within the last few years when it comes to real estate?
How neighbourhoods have built up distinct identities in Vancouver and the Lower Mainland. I feel they have become more pronounced as our population density has increased and now home buyers can make decisions based on community, not just location.

Name one or two of your favourite hidden gems.
My favourite spots are down by the water. I live in South Delta where we have one of the best dykes for recreation, surrounded by a protected wild life area (The area happens to be a critical rest stop for thousands of migrating birds each year). After a run or bike down the dyke I visit The Centennial Beach café for coffee and hash browns and stay for playtime at one of the best playgrounds in the Lower Mainland. And on the topic of playgrounds, another amazing spot is tucked away at the end of River Road in Richmond at Terra Nova Park. You can watch the planes land at the airport, overlooking the river while the kids climb up an 8m tall tree house with a slide exit or fly across the park on the zip lines.

What is it about this city that makes you want to live here rather than somewhere else?
My community of family and friends in Vancouver brought me back here, but the ease of access to everything I love keeps me here. Everyone complains about the traffic, but I love that you can get around the Lower Mainland in about an hour. In the summer, I can swim in the bay to the US and back, pick up organic fruit & veg from a farm in Ladner, be downtown for meetings before noon and eat a fantastic fusion meal in a converted heritage building in Gastown in the evening. Maybe even sneak away for a retreat and hiking in the mountains the next day. You have serenity, buzz, excitement and culture all at your doorstep. What's not to love?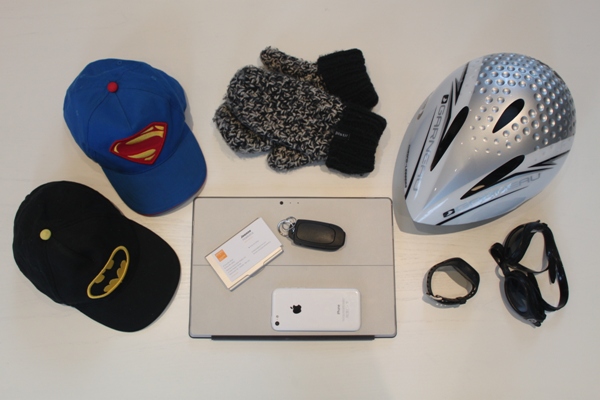 Tell us about your everyday essentials.
For work, my smartphone, business cards, tablet and keys. In my free time, I train in triathlon, so my Garmin, goggles and/or bike gear are a must. Two superheroes who keep me grounded. And my mittens. I have chronically cold hands.

Thanks Joanne!